Term 4 Week 10 Newsletter 2021
Advent
The most common Advent candle tradition involves four candles. A new candle is lit on each of the four Sundays before Christmas. Each candle represents something different, although traditions vary. The four candles traditionally represent hope, faith, joy, and peace. As we finish the 2021 school year I'd like to focus on these four themes. The Hope is for a more settled 2022 as we look with optimism for a world free of Covid and it's associated concerns. We dig deep into our Faith to remind ourselves of Jesus' love and our belief in his teachings. We acknowledge the Joy in our beautiful children and the wonder of every day with them. Finally we celebrate the Peace in our world and the importance of accepting others and reconciling our differences. On behalf of all the staff I thank you all for your support during 2022 and wishing you a safe and happy Christmas season.
Staffing 2022
We welcome Lauren Magnus as our new Assistant Principal at St Finbarr's for 2022. Lauren is currently Leader of Pedagogy at St Anthony's Primary School, Kingscliff and has previously held the positions of Assistant Principal / Acting Principal at St Ignatius Parish School, Bourke, Acting Religious Education Coordinator at St Christopher's Primary School, Panania as well as various other leadership positions across three Diocese. Lauren is an experienced and passionate educator and we are excited to have her part of the school community. She is aware that she has some big shoes to fill with Carolyn Wade taking twelve months leave from the position. I thank Carolyn for her outstanding service to St Finbarr's and we look forward to her return in 2023.
Year 6 Graduation
Year Six Graduation is always a highlight of the school year and we congratulate our leaving students who will celebrate with a beautiful assembly and traditional ringing of the bell in the school hall on Thursday. The students have been a wonderful leadership group this year and have shown great resilience in a Covid year where they have missed out on several fun and educational experiences. We wish them well as they move to new exciting adventures in High School.
Outstanding School Fees
With the school year coming to an end, we ask that you finalise any outstanding school fees for 2021 by the end of this week. Families would have recieved a fee statement from CSO accounts last week showing your outstanding balance. If your account has a negative amount your account is in credit.
Please note that if you are paying by Bpay that you check your Bpay account details on your statement. Since we have moved from SAS accounting to Compass the Individual Reference number has changed for every account holder.
The preferred methods of payment for school fees is through the Compass App or Bpay. If you have not downloaded and set up your App please contact the school office for log in details.
If you have any questions regarding your account please contact Alison Mason in the school office.
2022 School Fee Details
For 2022 there has been a 3% increase to the tuition fees to match the CPI increase. There has also been an increase in the Technology Levy to support the school's information and communication technologies plan and the hire of student devices.
2022 fees will be billed to families in four equal payments with one bill per term. Statements are emailed monthly from accounts@lism.catholic.edu.au. Fees are payable within 30 days, with preferred payment methods being, via the Compass App or Bpay. You can also pay cash and EFT through the school office.
A discount of 4% will be available to those families who pay the full year's fees by 7th March.
Our ability to provide quality Catholic education for every child is dependent upon every parent paying their school fees. If you expect any difficulty in meeting this commitment please contact Alison Mason alison.mason@lism.catholic.edu.au It is far better to be upfront now than to fall behind.
Please see below the 2022 Fee and levy breakdown.
Kind Regards,
Tim Bleakley
Principal
Holiday Learning
As the school year ends we remind parents that to retain a child's reading level which he/she has acquired, a child needs to continue reading each day throughout the summer. It's fun to brainstorm all types of text that can be found to read; children's section of the newspaper, children's magazines, online books, books from home, libraries or bookstores, reading maps and brochures, signs, etc. There are books that have been made into movies and a couple coming soon to theatres. It might be fun to read the book(s) before watching the movies and discuss which was preferred in the end. Create a challenge with your child(ren) to all read 10 minutes each day.
If your child experiences difficulty writing, over the holidays it is a good idea to create a Holiday Journal. Journals or writing books also make great gift ideas – which often excite children, thereby encouraging them to use it throughout the festive season. To make this a more meaningful experience, you could ask your child to share what they have written each day at the dinner table and provide positive feedback about the descriptive language they have used throughout. Illustrating their favourite part of the day (after writing their recount) creates a relaxing activity they can do also. If you're going away, perhaps you and your family could buy some postcards for friends back home, and your children can write and send postcards about the highlights of their trip?
Maths is one of the easiest skills to incorporate into a game, as several well-known board games are great math skill builders (perhaps sneak a board game, preferably one that requires counting or tallying up scores under the Christmas tree?!) These are great for children from K-3. For older kids, Monopoly and The Game of Life are great choices because both use money, which is always great for teaching maths skills. You can also have your children count the money in their piggy banks or help you with your shopping. By asking them, "If I use this 50-cent voucher to buy this two-dollar loaf of bread, how much will this bread cost?" It's teaching math and economics all at once. A great tip is to also ask children "how did you work that out?" – which encourages children to articulate their thinking, as there is often more than one way of working things out.
2022 Start Date and Details
During Week One of the 2022 school year, we will be conducting Mathematics Assessment Interviews (MAI's) for all students from Year One through to Year Six. These assessments will involve teachers working one on one with students to facilitate a range of tasks designed to determine their mathematical understanding. The MAI provides valuable information to class teachers that informs and guides their teaching of Mathematics to progress learning for every student.
The interviews will take place from Tuesday 1st to Thursday 3rd of February. Interviews will be scheduled for 30 minutes each. Therefore, the first day of Term One for all students in Years 1 - 6 will be Friday 4th of February.
Please note, Kindergarten will do an extended interview and assessment, and will commence school on Monday 7th February.
More details and booking link will be emailed next week, along with your child's 2022 Class teacher.
Semester 2 Report Cards
Reporting is the process of communicating information about student achievement and progress derived from the school's assessment processes. Reporting is inclusive of a range of formal and informal strategies aimed at providing students, parents, teachers, other schools and employers with accurate and relevant information about student achievement and progress.
The St Finbarr's Semester 2 Report cards will look quite different this year, as they have been adjusted to reflect the learning priorities of schooling due to Covid-19 and Blended Learning. The report focuses on the fundamental knowledge, skills and understanding in English and Mathematics. While rich learning has taken place in the other areas of the curriculum, the school has focused on individual student learning achievement and growth that will guide future learning in these two core areas of the curriculum.
You will notice an absence of A-E grading, as well as a grade (1-5) for effort. Instead, the school will provide you with a comment for English and Maths, as well as a General comment, which will also reflect a general statement about Religious Education. This is the directive from the CSO, and student's reports across the Lismore Diocese will reflect the same.
Student Achievement
In order to provide you with accurate information about your child's learning progress, our teachers have tried (where possible) to use consistent language to reflect student's learning achievements in lieu of the A-E reporting in Years 1 → 6. Similarly Kindergarten use a 3 point scale and this language is reflected in the table below also.
In order to best understand your child's report card and achievement levels without the "A-E" grading scale, please refer to the below table.
Years 1 - 6 Common Grade Scale

5 point scale

Language reflected in report

A

Extensive

B

Thorough

C

Sound

D

Limited or Basic

E

Elementary
Kindergarten Common Grade Scale

3 point scale

Language reflected in report

Above the expected level

At the expected level

Below the expected level
"Working Towards" the expected level, or "Working Below" the expected levels, refers to your child not having met the outcomes for their year level. "Working At" the expected level or "Sound achievement" means that your child has met the outcomes for their year level. When a teacher uses the language of "Working above/beyond" or "thorough/extensive' understanding, this means that your child has achieved the outcomes for their year level and is working above it. Some other language that will be helpful to look out for, is when a teacher references "With support Carolyn can…." - this means that your child is unable to complete these set tasks independently and is reliant upon the support of either the classroom teacher or teacher's aide in this area.
Evidence used to create student report cards include; formative assessments, using daily check-ins such as two stars and a wish, along with summative assessments, tests and teacher observations. As you can imagine, a huge amount of work goes into collecting data about your child's learning, as well as ensuring there is consistency across the stage and school in relation to what student work sample represent. As always, please contact your child's teacher to discuss their report if you have any questions or concerns.
Engagement In Learning
The CSO have created a new Engagement In Learning descriptor (check box) that schools will also use this semester. This replaces our Working Habits and Social Skills check boxes. These Engagement indicators; Listens attentively and follows instructions, Completes set work, Seeks help when necessary, Demonstrates organisational skills, and Is able to reflect on learning will be assessed on a three point scale; Always, Usually, Sometimes.
Kind Regards,
Carolyn Wade
Assistant Principal
Stage 3 Mass
It is hard to believe that this is our last newsletter for the year and what a year it has been. For so many of our students it has been a year of firsts and for many a year of lasts.
Last week, our Year 6 students celebrated their final Stage Mass as students of St Finbarr's Catholic Primary School.
The Mass was celebrated on the Feast Day of St Francis Xavier who is one of our greatest Saints. Saint Francis Xavier is the patron saint of missionaries, he lived with the poor, sharing their food and rugged accommodation, learning the language, healing, and spreading the good news evangelising many whose lives he affected with his witness to his faith in words and actions.
Fr David, in his homily, spoke of the life of St Francis Xavier. In his words, he explained to the students how they too are on a journey not unlike how St Francis Xavier began his journey with the knowledge they have gained from their schooling, the knowledge of the friendships they have made and shared, the love of their families but most of all with the knowledge that they are loved unconditionally by God as we are all God's creation.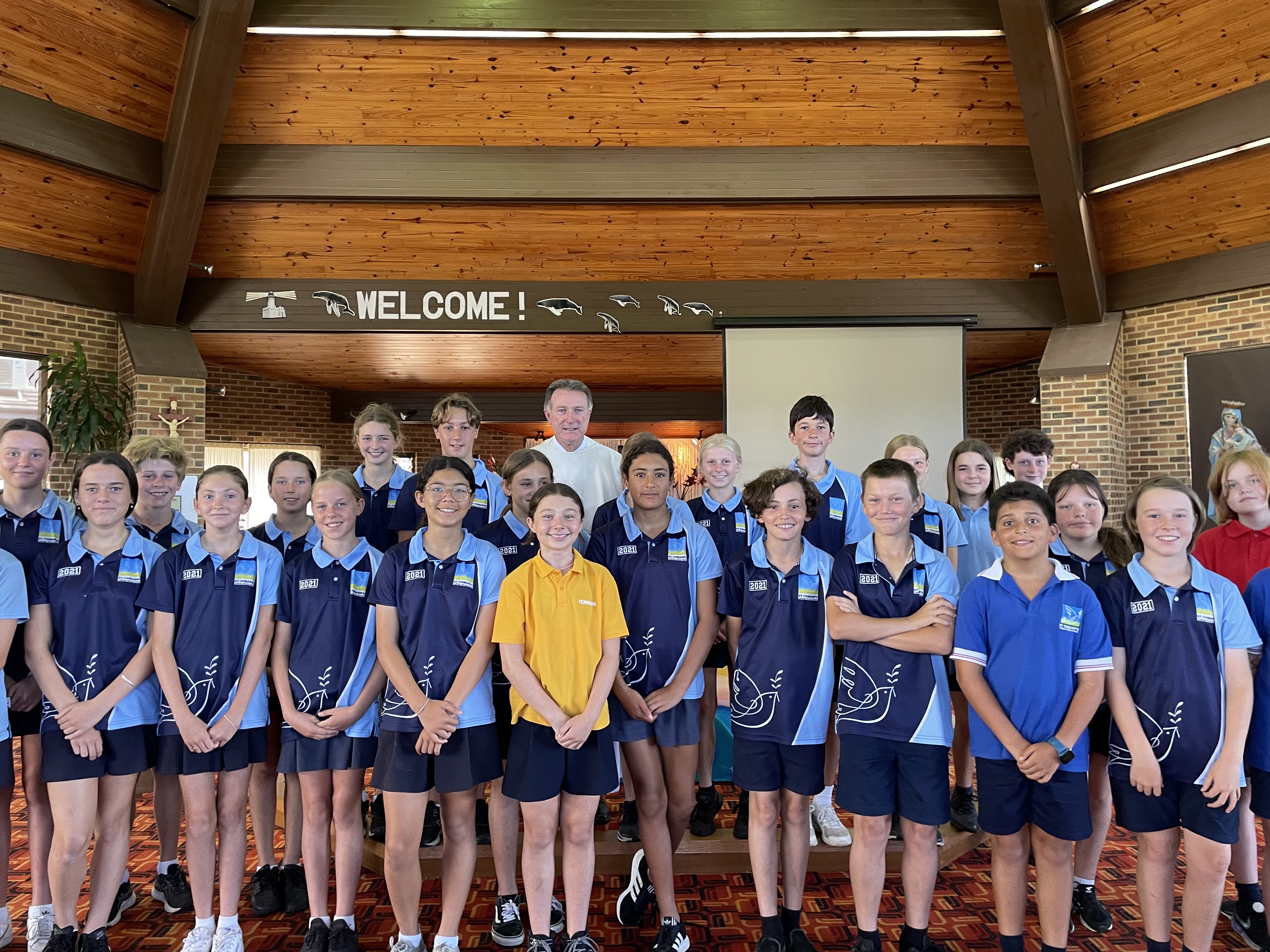 Advent
We are now in the second week of Advent and the theme is Peace. The peace Jesus spoke of in the scriptures isn't that of the absence of war, conflict or struggles but in the knowledge that He is always in control even when we feel the world around us is in disarray. This is a powerful reminder during this time of Advent put beautifully in the words of Pope Francis,
"Although the life of a person is in a land full of thorns and weeds, there is always a space in which the good seed can grow. You have to trust God."
"Let us pray for peace: peace in the world and in each of our hearts."
"God's love calls us to move beyond fear. We ask God for the courage to put on faith, hope and love as we go out into the world and become the word in body as well as spirit."
-Pope Francis
Our St Finbarr's School community prays for all families that they find peace, hope, joy and love this Christmas and we look forward to continuing our journey with you next year.
Thank You
This year our students have had many wonderful opportunities to put our faith into action. I wish to extend a big thank you from St Finbarr's for the generosity from you, our school community, in supporting this.
It is part of our mission to serve those less fortunate and reinforces to our students and community that as a Catholic school with Jesus Christ at the centre of all we do. We are led by our faith, united in love, celebrating and taking example from those who have been true disciples living out His word such as Mary MacKillop -'Never seeing a need without doing something about it.'
I would also like to thank Father David for his commitment to our school, who through his beautiful homilies at school masses, encourages and strengthens us in our faith and our Church. Many of our students have received the sacrament of Confirmation, Reconciliation and First Holy Communion this year. For each of these sacraments, Father David has ensured our candidates and their families are well prepared, taking the time to speak with each of the candidates and answering any of their questions in readiness for the sacrament.
Kind Regards,
Sonya Piccoli
Leader of Evangelisation
Christmas Trees for RSL aged care
Last week our Stage 3 students were busy planting and decorating live Christmas trees for the residents of the Suffolk Park RSL aged care facility. Mr O delivered the trees to the residents and said that they were so happy to recieve them and that they brightened their rooms. Well done Stage 3.
WORN UP second hand uniform collection
Collection time!
The Worn Up Textile Rescue Program funded by our local council has another collection coming up! We are trying to get A TONNE of uniforms out of landfill and we need your help! Please bring in your old uniforms to St Finbarr's so they can be put in the Textile Rescue Pod.
Remember:
Uniforms only (no bags, undies or shoes)
Date of collection: 13 December 2021
The Pod is located in the front office
Road Safety in the Holidays
During the school holidays remind your children of key road safety messages. Help them to regularly practice their road safety skills whenever you are out and about. Check out these learning resources on the Safety Town Link Below.
Student Awards
Holiday Programs