Term 4 Week 8 Newsletter
Congratulations
Congratulations to our First Holy Communion students who celebrated the Sacrament last week and this week. The students had a beautiful preparation coordinated by Mrs Piccoli with a special school visit from Fr David. Please keep these children in our prayers for the coming weeks.
Such a great St Finbarr's community also last Sunday week at the St Finnie's Golf Day. Despite competing with a Nippers carnival in Yamba there was a strong field of golfers and an even bigger group of families enjoying the view and refreshments on the balcony after the golf. A huge thank you to Cath Armstrong and Michael Hardman and their team for organising the day, sponsors and raffles for the occasion. Families loved meeting up again after lock down and there was plenty of support for a follow up day next year.
Students have been enjoying the Surf Safe program at the beach these last few weeks. Stage Two and Three students are learning to master the ocean through an improved understanding of rips and waves. Instructors have commented regularly on how delightful and respectful our students are when attending their beach lessons. Congratulations Stage Two and Stage Three.
The Power of Play
Each day I spend lunchtime out in the playground. Without my own class to look after I see this as my classroom. My aim is to get to know every child in the school, not only by name but as learners and people. I am of the firm belief that rich, life-long learning for students takes place in these times traditionally known as 'play time'. Often, the experience the students have at lunch or recess can have a huge impact on their learning when they return to their class. My teaching opportunities on the playground come in the form of casual conversations, answering random questions and mediating if issues arise. It's particularly pertinent that Mrs Wade has added to this newsletter on the topic of school behaviour issues escalating at this time of the year. I've certainly noticed this in the past few weeks.
I am a believer that the most effective teaching comes in action and not necessarily many words and even fewer lectures. We are often tempted to solve every child's problem that arises on the playground. Experience tells us that there is more to be gained when the students design the game, set the expectations, define and enforce the rules. They learn to cooperate, to negotiate and to challenge poor behaviour. Student leadership skills come to the fore. As an educator, it's about knowing the exact moment to become involved while always ensuring everyone is safe. I love to see the joy in faces as they navigate their own rules, strategies and nuances of their games.
At St Finbarr's we are blessed with such a variety of natural spaces as well as man-made structures which inspire and allow for creativity and fun. I am encouraged to witness the staff chatting, strolling, laughing and joining in a handball game or putting up towering bombs with the footy for our Kinders to catch. There's definitely a few there with a future in the big league!
Don't forget to ask your children, 'What fun did you have at play today?'
Staffing 2022
As you are aware, Carolyn Wade has informed me that she will be taking 12 months leave from her position as Assistant Principal at St Finbarr's. Carolyn will be temporarily relocating to Brisbane to be closer to family in 2022. Carolyn has held the role of Assistant Principal at St Finbarr's since 2010 as well as Acting Principal during a difficult period of change in 2017. She is a passionate educator and a tireless worker who is highly regarded and respected in the school community and across the Lismore Diocese. I began working with Carolyn in 2019 and have been amazed at her ability to juggle the complex role of Assistant Principal while successfully raising two young children. A typical working day for Carolyn usually begins with early morning phone calls as she organises staffing for the day ahead. Placing each student at the centre when making school decisions and her caring, professional approach with staff and parents will be greatly missed. As with most leadership roles, difficult decisions are required at times and Carolyn has shown courage and resilience as she has continued to have high expectations of staff and students. Ensuring St Finbarr's is recognised as the top primary school in the region has been paramount on her agenda.
We are currently working with the Catholic Schools Office in a thorough recruitment process to ensure our students continue to have strong committed leadership from inspiring and creative educators. The Acting Assistant Principal for 2022 will be announced shortly.
Red Nose Fundraiser
Oliver and Sander generously organised a fundraiser for Red Nose Day last week. Both boys spent their lunch time and recess running a guessing competition with all proceedings going to the Red Nose Day fundraiser, well done boys.
Parent Collective News
Last Sunday the Finnie's Golf day was played at the beautiful Byron course on a sunny, hot afternoon. The 48 players set out shortly after midday, and for the next 4 plus hours, the course was filled with cheers, groans, laughter, and maybe a few tears.
A huge thank you to Ben Robin, and all the Partners at Sommerville Laundry Lomax for being the Major Sponsors of the day. Thanks also to all sponsors; Apollo Property, Airswing Media, Back Beach Rd Board Shorts, Byron Truck and Bus Repair, CA Interiors, Dr Moose, F45 Byron Bay, iFly, Matt the Sparky, Marloane Building Co, New Beach, Pacifico Property, Reclaim Energy, and Youth Development Academy Byron Bay.
Thanks also to Nick Wall and Anna Gilham for helping organise the day, and for tracking down prizes. It was great to see so many families after the game for the presentation. Last of all thank you to all the generous families and businesses who kindly donated prizes for the day.
Winners on the day;
1st - Ben Robin, Nick Wall, Brian McKenzie, Michael Hardman - Score 57.5
2nd - MaryLou O'Brien, Erica O'Dea, Andrea Lennie, Brendan Corrigan- Score 61
3rd - Guy Latham, Katrina Boehm, Ben Crawford, Kate Crawford - Score 63.5
Women's Long Drive - Erica O'Dea
Mens Long Drive - Nathan Scrandett
Nearest the pin 5th - Brad Lloyd
Nearest the pin 8th - Michael Hardman
Nearest the pin 12th - Dave Abbott
Nearest the pin 17th - Michael Hardman
Next year will be even bigger!
Stage 2 Clean Up Team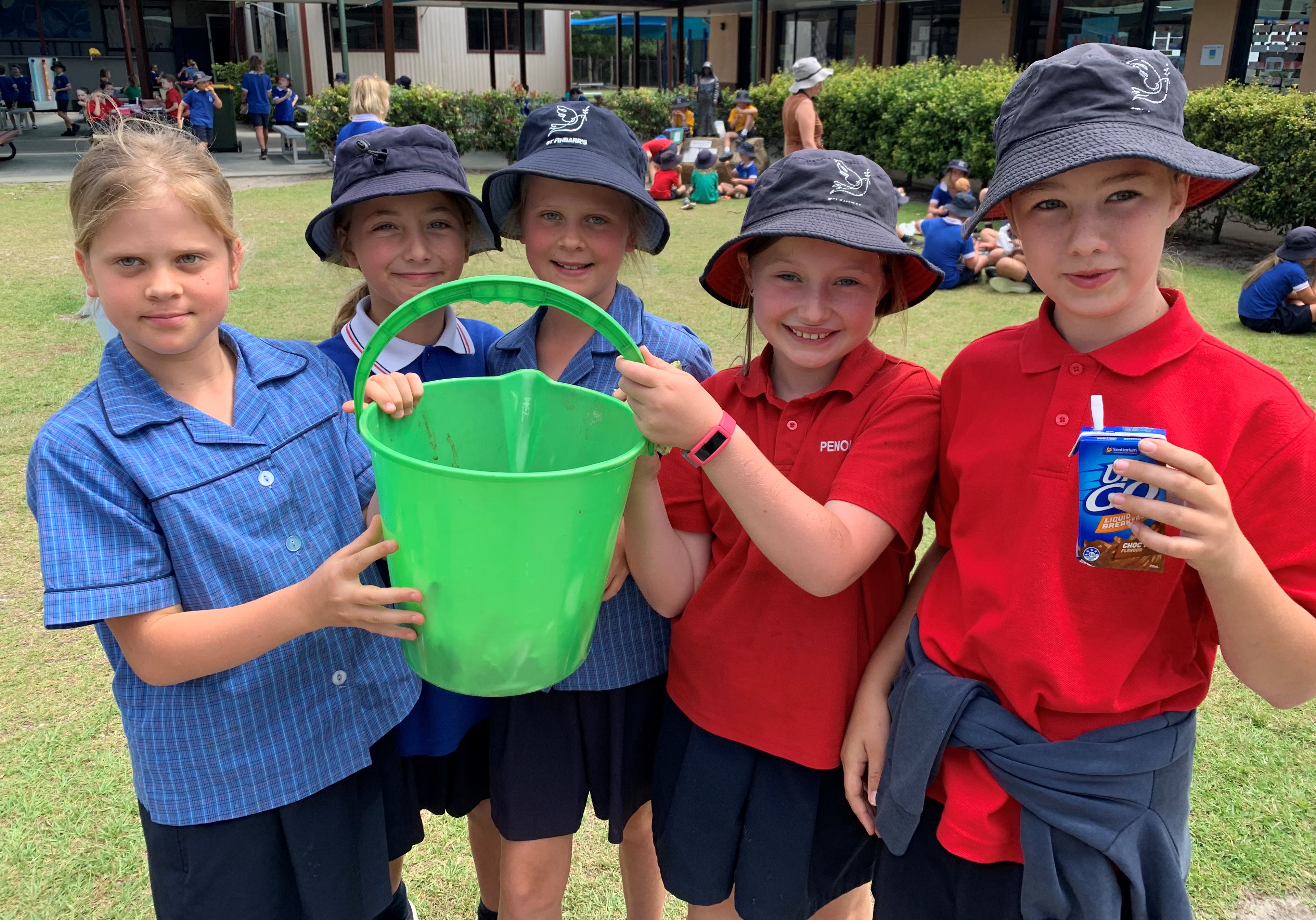 Thanks to our dynamic Stage Two Clean Up team for their playground clean up initiative.
PEACE PROJECT
Thanks also to Mrs Hill for our artistic addition to the playground and promoting Peace.
St Finbarr's in Action
We've missed having you all on site this year. We've created the following videos to show you what we've been up to. Enjoy the action as we follow the adventures at Nature Play and in Tiny Towns.
Kind Regards,
Tim Bleakley
Principal
Student Leaders
Congratulations to our Year 5 students, who began their official role as school leaders over the last few weeks. The students cared beautifully for their Kindergarten 2022 buddies at Mini Fins, where they enjoyed some play based learning in our Nature Play area. The Year 5 students showed that they will be outstanding school leaders in 2022 and they are already much loved by their buddies.
This is such an important aspect of School leadership, as it officials welcomes our new families as well as emphasises to the Year 5 students the important role they will play in our school next year.
Student Behaviour
Towards the end of the year (usually around this time) we notice a decline in student's behaviour. This can be presented in a variety of ways; hands on incidents, name calling, becoming more impatient and/or less tolerant with other children, increased frustration in social groups and also a lack of resilience in dealing with situations. I know that this time of year can be difficult – this is amplified once the extra curricular weekend activities kick in as children become physically exhausted throughout the day. Teachers work very hard to keep students engaged in class time, but recess and lunch can become quite tricky for kids if they are physically and emotionally exhausted.
In the upcoming weeks, it would be a great opportunity to chat to your child about how to navigate this tricky time with reminders such as:
Spend time/play with children who make your child feel good about themselves, and who encourage and model good choices. Help your child identify who brings out the best in them.

If you make a mistake, accept responsibility so the issue can be resolved quickly.

Discuss with your child that they don't always have to listen to others and empower them to walk away from situations that are upsetting them. This may be walking away from a game if it becomes too competitive or walking away from friends if/when they begin to make bad choices.

If your child has made a bad choice remind them to put themselves in the other person's shoes. Sometimes children become so consumed in their own version of events, that they don't stop to consider how the same event could be playing out for somebody else. Talking through different perspectives can be very helpful.

Teach your children how to apologise. Sometimes it takes a lot to admit we are wrong, so having conversations with your children about how to say sorry (even practice together!) will give them the confidence to do this independently when the time comes.

Make sure your friends are ok - talk to your child about "checking in" on their friends. Questions like "are you ok?" and "is there anything I can do?" would be good sentence starters for kids to learn.

Ensure your child knows and understands that there are consequences for bad choices; at school and in life. Avoid justifying your child's bad behaviour, but rather seek to understand why, and then follow through on school or home consequences. Treat every issue as an opportunity to learn from the experience.

And finally – make sure they know they are loved; by you, by their friends, teachers and the parish school community.
'There is nothing you can do, that will make me love you less' – is a powerful statement that the staff often use at St Finbarr's. It reminds the children that they are loved. Always. We all have good and bad days, and knowing that we are loved each and every day by God and our family and friends is an important reminder for children, especially when they're experiencing difficulty. In the next few weeks if you think your child is bordering on physical and emotional exhaustion, please feel free to keep them home for a rest day. It may be just what they need to refresh and reconnect.
Creative and Performing Arts Showcase
We will be celebrating our CAPA Showcase tomorrow and livestreaming this event on our school's Facebook page for you to watch all class performances from the comfort of your home (or sneakily from your office ;). Parents are welcome to tune in to watch this event live streamed, however we will also share the videos with you via Seesaw afterwards.
The theme this year is WORLD and classes have prepared songs, dances, visual art and multimedia creations based on themes such as;
The world around us

Looking after the world

Our responsibility in the world

The animals and environment in our world

World peace

Acknowledging different countries and cultures in our world
For those tuning in at home, the run sheet follows:
10:00am Opening Dance Number
Kinder Performance
Year 1 Performance
Year 2 Performance
LUNCH (10:55 - 11:45am)
12:00pm Stage 2 Performances Stage 3 Performances

Thank you to our amazing teachers for once again embracing the Creative and Performing Arts and creating opportunities for our students to celebrate and showcase their talents in these areas!
Thank You!
Tim Bleakley shared my news last week via email to all parents, and I wanted to take the opportunity to sincerely thank our Finnie's parents for your continued trust in and support of the very important work we undertake at St Finbarr's. I thank you for your involvement in all levels of school life over the years and most importantly I thank you for your willingness to work with the school staff as partners in your children's growth in faith, friendship and learning.
I thank Fr David for his leadership and also offer my thanks to our wonderful staff who are professional, talented, committed and extremely caring; I highly value each one of them, and particularly appreciate the support they offer me in my leadership role at the school.
Tim and I have worked very closely for the last 3 years and I am so grateful to have had the opportunity to work with him, learn from him, lean on him and laugh with him. Like most teams; we each bring different skill sets to the leadership of the school; but always working together with genuine trust, respect and commitment to working for the good of the school. I am very aware of how lucky I am to have worked with such a creative educational leader and want to thank him for allowing me the opportunity to be closer to my family next year.
Sincerely; thank you!
Carolyn Wade
Assistant Principal
Kindergarten Mass
Our Kindergarten students celebrated a beautiful Mass on the Feast Day of St Josaphat. It was so wonderful to see our students actively participating in the Mass by being attentive listeners, articulate readers and amazing artists, with all students contributing to a beautiful poster representing each of them as a follower of Jesus.
Fr. David through his homily expressed to the students that being a follower of Christ can sometimes be easy but at times, can also be hard. He reminded the students that most importantly, we are followers of Jesus when we listen to and follow his message of loving one another, being kind to one another and thoughtfully sharing this beautiful planet we all live on.

Holy Communion
It has been so special to witness many of our students celebrating their First Holy Communion over the past two weekends at both St Finbarr's Byron Bay and St Kevin's Bangalow. It was wonderful to see the candidates along with their families at Mass to celebrate this beautiful occasion.
The Parishioners at Holy Spirit Parish, along with our school community have been keeping these candidates and their families in their prayers as they complete the final sacrament of initiation.
I would like to acknowledge Fr. David who always ensures the candidates feel special and at ease during the preparation process and at the Masses of these momentous occasions. Saturday night was also a particularly special occasion marking the 34th anniversary of Fr. David's ordination. Congratulations Fr. David!
A special thank you to Pat and Kathryn Higgins who thoughtfully prepare the certificates for each of the candidates as they complete their Sacraments.
Advent
This coming Sunday marks the first Sunday of Advent. Advent is a period of preparation that extends over the four Sundays leading up to Christmas. We reflect on Advent when we gather at Mass, when, after praying the Lord's Prayer we listen to the words…..'as we await the blessed hope and the coming of our saviour, Jesus Christ'. It is these words given up in prayer that calls us to attention of the joy, hope and anticipation of the wonderful time we are entering, the coming of Christ; preparing for Christmas.
I have included a prayer you may like to pray with your family wherever you are this coming Sunday in preparation for this wonderful time we are about to experience as followers of Christ.
Gracious God,
Open our hearts so that we may receive the message of your coming with joy and wonder.
Help us to recognise the people, places and beauty in the midst of our daily lives where you meet us with your love and care.
May we show this love and care to all those we meet.
We ask this prayer in Jesus' name.
Amen
Kind Regards,
Sonya Piccoli
Leader of Evangelisation
Flexischool Canteen ordering
I have noticed that sometimes families are ordering canteen and selecting the wrong canteen day and children are missing out on their food. When placing your order through Flexischool, it lists both Tuesday and Friday canteen days. Please be mindful that once you have placed your child's lunch order and then you come back out to process your recess order, that you are choosing the correct order day.
Thank you
Cyra
School Uniforms at Vinnies
Any families that might be looking for any school uniform items, we have just donated a large amount of second hand (nearly brand new) uniforms to Byron Bay Vinnies.
Surfing Australia Kids Holiday Program
Surfing Australia is a NFP organisation running kids learn-to-surf programs. The aim is to promote beach safety and awareness through the enjoyment and fun of surfing. It is open for 5-12year-olds and runs through surf schools across Australia during the upcoming summer holiday period.
For more information on the program follow the link below to the website.
Student Awards