Term 4 Week 6 Newsletter 2021
Farewell Staff
This time of the year often brings announcements of school change as staff look to further their experience and expertise. As principal I have always encouraged teachers to seek new challenges and develop themselves as educators and leaders. At times in schools, opportunities arise quickly and unexpectedly and important decisions take processing and deep consideration. I commend staff for not only taking these risks but also for the extra professional development that is pursued, mostly in their own time.
Changes for 2022 at this stage are as follows: Kate Jones has been on maternity leave and has worked at the Catholic Schools Office for the past few years. Kate has informed me that she will not be returning to St Finbarr's and she will be taking up a part time position at Holy Family Skennars Head. Zoe Astbury, who has been with us this year has accepted a position teaching at St Joseph's Kingsford and will be returning to Sydney. Nick Houghton has accepted a position as Education Officer with the Catholic Schools Office and has been seconded to that position for a period of three years. Maureen Bracken has been on leave in 2021 and will not be returning to her Teacher Assistant role next year. Jennifer Evans will also be taking 12 months leave from her Teacher Assistant role and we are currently advertising for Teacher Assistants to support our students. We are excited to announce that Rebecca Manley is expecting her first child in May and will be on maternity leave for 2022.
We welcome Kristy Lollback to the teaching staff next year working in Year Two. Kristy has been a familiar face around the school in 2021. We are currently advertising for a full time teacher for Stage Two who will replace Mr Houghton. We wish Zoe, Nick, Kate, Rebecca, Jenny and Maureen the best with their new positions and opportunities for the future.
2022 Classes
In the next few weeks students will be placed in classes for 2022. Teachers put a great deal of thought and planning into these placements. We take into account social groupings, academic performance, intervention needs, previous class teachers as well as other issues. It is school policy that personal requests from parents for certain teachers are not considered. If there are genuine reasons for parent requests (eg. a child having had a teacher for three consecutive years) these should be addressed in writing to the principal. Students are not moved from classes after classes have been set or after the school year has begun. Thank you for your understanding and support of this aspect of school life.
Golf Day Fundraiser
I'm looking forward to dusting off the clubs on Sunday at the St Finnies Golf Day. If you haven't signed up yet please consider joining in this great social get together. Thanks to our wonderful Parent Collective for organising the event and our generous sponsors who have supported the day. The fun starts from 12 noon on Sunday and families are welcome to join in for drinks and a meal at the club afterwards.
Students Departing Early From School
The busiest time for our wonderful admin team of Buffy and Alison in the office is from 2-3pm each day. This year we have seen an increase in the number of parent requests at this time of the day asking for students to be collected from the office or for changes to the plan for students travelling home from school. This has become very disruptive and confusing for students as the plans often change on a daily basis. Recently, class notes have been unable to be distributed in time and some messages have not been received and passed on which can cause a great deal of stress for families, staff and students.
Our afternoon oval pick up procedure is working well with the safety of all being our top priority and this is the ideal method for students travelling home by private transport. We appreciate the patience and care that parents and carers take in ensuring this continues to run safely and smoothly. We are requesting that phone messages to the office and requests to inform students regarding changes are kept to a minimum and only for extreme emergencies. We thank you for your understanding and support.
Kind Regards,
Tim Bleakley
Principal
Update for School Events
Please see list below for updates regarding the following events:
* K-2 Intensive Swimming Program - cancelled due to COVID restrictions.
* CAPA Showcase (scheduled for Week 7) has been rescheduled to Wednesday Week 8. More information coming soon.
* The 3-6 Swimming Carnival has been cancelled due to COVID restrictions.
* Year 6 Graduation & Ringing Of The Bell Ceremony is scheduled for Thursday 9th December. More information coming for Stage 3 Parents in regards to the COVID procedures.

Catholic Mission - Socktober Fundraising Results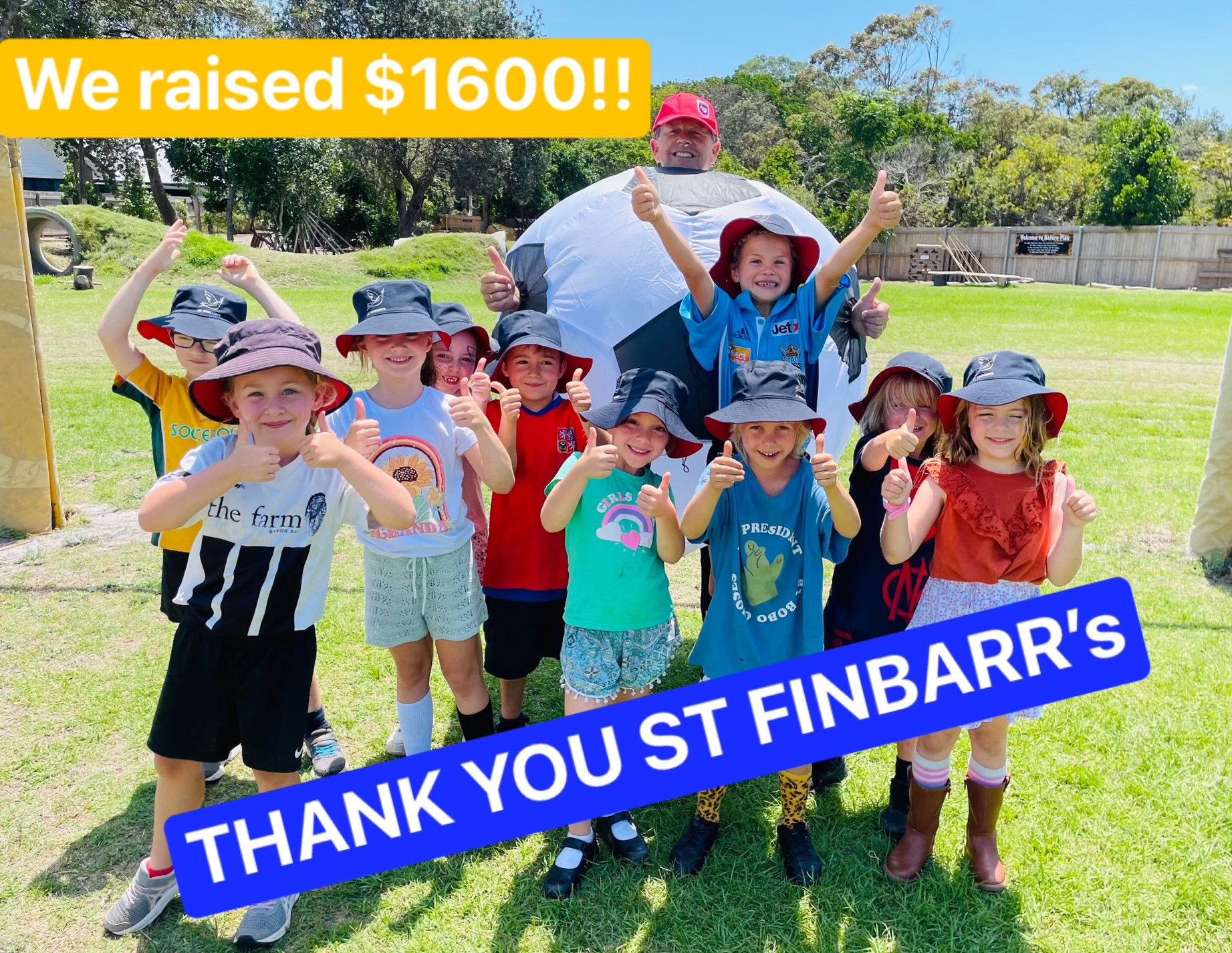 Thank you, Thank you, Thank you to our amazing school community.
Due to the wonderful generosity of our school community, St Finbarr's raised $1600 for Catholic Mission with our Socktober Soccer Shootout. This was such a wonderful day with all students doing their best to kick as many goals as they could to raise money for Catholic Mission.
The money raised for Catholic Mission is used to fund and provide project support to critical church-run initiatives in remote dioceses within Australia as well asAfrica, Asia, Oceania and South America. Grassroots needs are identified by local Catholics, to give people the opportunity for a full, enriched life—physically and spiritually—regardless of race, stigma, religion or gender.
These days just don't happen and we must acknowledge the amazing skills of Mrs Lisa Clark who organised the Shootout along with both Mr Bleakley and Mrs Wade being our super goalies for the day along with our Stage 3 Catholic Social Justice team students who worked hard throughout the event to tally the goals and ensure the day ran smoothly.
Socktober Images
Holy Communion
Over the next two weekends, a number of our students will receive their First Holy Communion. This is such a special time for these students and their families marking another important step of their formation in the Catholic faith.
Father David met with all of our candidates last Thursday afternoon as a part of their preparation, talking to them about this special event in their lives and to answer the questions they had. Through Holy Communion, we receive the grace and strength to live as Jesus taught. It was beautiful to hear the Holy Spirit Parish acknowledge and pray for these students and their families at Mass last Saturday night. I ask that as a school community we all keep these students and their families in our thoughts and prayers.
All Saints Day
Last Monday, 1st November, we celebrated the feast of All Saints Day. A time where we express our thankfulness to God for the many faithful people who show us how to live as Jesus wants us to. It marks the beginning of a month where we remember all of the people we have loved who have died and give thanks for the special place they have in our hearts. We also pray that they are with God and at peace.
After Jesus died, his friends were sad and confused. When they met him on the road to Emmaus, they didn't recognise him, but they did what he had always taught them to do. They walked and talked with him and then welcomed him into their home. When they recognised him, they were very excited and wanted to tell everyone.
When people we love die, we miss them very much. Hopefully we keep doing the wonderful things they taught us to do. Maybe they taught us to cook, or to tie our shoes, or to swim, or play piano. Maybe we enjoyed playing games with them, or singing songs together, or going on adventures. Whatever it is, we keep doing the things that we learned and enjoyed, or know are important.
We also realise that they will always be in our hearts. We carry our memories and have a sense of them being with us, or watching over us, a bit like the disciples walking along the road beside Jesus. When the disciples realised that Jesus really had risen from the dead they were very excited, and we trust God's promise that those we love who have died will also be raised to life with God.
During the month of November, take time to thank God for the people close to us who have died, and to ask God to continue to take care of them.
Kind Regards,
Sonya Piccoli
Leader of Evangelisation

Learning With iPads Week 6
As mentioned in the previous newsletter, St Finbarr's is transitioning from using Chromebooks to using one to one iPads for Years 3-6 next year.
In order to ensure the successful implementation of these learning devices, Stage 3 Parkes is currently undertaking a pilot project on how to use the iPad as a dynamic and effective learning tool.
App Focus: Pages
Pages is Apple's version of a word processing app. There are a multitude of design templates to instantly create gorgeous reports, digital books and posters or create your own design. Images, movies, audio, tables, charts and shapes can be easily embedded. By using the Apple pencil or even your finger drawings can be created or annotations added.
Kind Regards,
Mary McEvilly
Stage 3 Teacher
Pages App - Student Work
School Reports on Compass
We will be uploading our Semester 2 Report Cards to Compass this year and these will be made available to parents in Week 10. Please note, there will be no printed copies available and/or sent home.
At the commencement of Term 3 we distributed Compass login details for each parent. Parents will require these details to access the Semester 2 Report cards - so if you haven't already logged into this platform, please do so. Login details including your Username and a temporary password were emailed directly from Compass (not from the school email) to each parent around the middle of July with the subject 'Welcome to St Finbarr's Primary School - Byron Bay's Compass Platform'
If you have forgotten your password, please click on "Can't access your account?" on the login page and follow the prompts. Please contact the School Office if you have any questions.
Kind Regards,
Carolyn Wade
Assistant Principal
Compass App - Stay Up To Date
Compass is our Schools preferred form of communication, did you know:
1. You can monitor and pay your school fees via the Compass app.
2. You can let us know if your child is absent by sending us an attendance note. This can be done at any time, so no need to wait until the school office is open to make a call.
3. Access the schools newsletter and find out about School events via the calendar.
If you have not yet downloaded your compass app, please do so.
Login details including your Username and a temporary password were emailed directly from Compass (not from the school email) to each parent around the middle of July with the subject 'Welcome to St Finbarr's Primary School - Byron Bay's Compass Platform'
If you have forgotten your password, please click on "Can't access your account?" on the login page and follow the prompts. Please contact the School Office if you have any questions.
Finnie's Fundraiser - GOLF DAY!
The St Finbarr's Golf Day is happening next Sunday 14th Novemberat 12pm. This is a wonderful opportunity for parents to come together, enjoy a social game of golf and raise some funds for the school.
Parents and families are invited to join in the fun at the club for drinks/ dinner after the golf has finished on the Sunday afternoon.
Click on the link to purchase your tickets, and if you would like to donate some prizes, please email: catherine@catherinearmstrong.com.au
Catholic Schools Parent Assembly
Safe on Social Parent Night Cancelled
With the uncertainty around when parents will be permitted back on school grounds under the current COVID-19 restrictions we have made the decision to cancel the Safe On Social parent night that was organised at Holy Family on November 15. We will revisit in 2022.
Would Your Child Like to Play Softball?
Student Awards