Term 2 Week 6 Newsletter 2023
Principal's Message
Parent Community Group
Thankyou to those who were able to attend our third gathering last week and to those who offered apologies. Below is a summary of the positive, honest and respectful discussions:
| | |
| --- | --- |
| Principal Welcome | Our shared purpose: To foster parent partnership which enhances student learning and wellbeing and helps build community. |
| Parent Assembly Representative | We are seeking volunteers for these groups below. Parents who will coordinate activities and liase with the school if it is decided by the group to proceed with the event. |
| Social/Fundraiser Committee | |
| Disco 27/10/2023 | |
| Colour Fun Run October? | |
| Movie Night | |
| Father's Day Breakfast September | |
| Parent Survey Feedback | There were 41 parents/carers from the school who completed the survey. Tim emphasised that this annual survey is the most effective process for providing feedback. When analysing the feedback we are looking for themes, rather than isolated comments. Some of the data contradicted itself eg: school discipline too strict/too soft; too mch sport/not enough sport. |
| Canteen Update | Clarity: The canteen space is leased privately. Money from this agreement goes back to provide school resources. Volunteers are most welcome to support Jay in the canteen. Jay's communication is excellent and feedback has been positive in these early days. All enquiries, or concerns go directly to Jay. |
| Building/Renovations Update | DA has been approved for the new classrooms (6) still waiting for confirmation from the Catholic Schools Office regarding commencement dates. We all share the frustration of not having adequate space for our library at present. |
| After School Care | Will not be returning until we have space available. The school has gone to great lengths to seek out private businesses in the interim who use our facilities. When space becomes available we will seek out a quality After School Care provider. |
| Use of Technology at St Finbarr's | General discussion regarding the appropriate use of technology in the school. What is happening at other schools? What is research saying? Health & Safety: What is the data regarding EMF's (electromagnetic fields)? We will continue to research and take safety precautions when viable. The school is currently reviewing its leasing agreement with Apple and seeking feedback from teachers in relation to student time spent on devices and effectiveness in enhancing the learning for students. |
| Mothers Day | The breakfast and assembly were held on separate days due to the busy schedule, overcrowding in the hall, ensuring a reverent liturgy and the school valuing both functions. This will more than likely continue to be the model. Communication could have been clearer from the school. Both gatherings were deemed a huge success and appreciated by all. Excellent support from Dads on barbeques and K-2 providing food. |
| Student Learning | Reading night: On Tuesday night (23/5/23) An excellent opportunity to keep abreast of reading at St Finbarr's and assisting your child at home. Thank you to teachers for providing this opportunity for parents. |
| Effective School Communication | Newsletter (fortnightly) and Compass: It is essential they are read by families to ensure up to date information and forward planning. |
| Next Meeting | Monday 24th July |
A reminder that I am now on leave from school up until the school holidays. During this time I am visiting family overseas. Lauren Magnus is Acting Principal in my absence.
Tim Bleakley
Principal
Mission
PENTECOST
On Sunday we celebrated the feast of Pentecost, where we heard the story of the Holy Spirit coming to the apostles to be their helper and guide as Jesus had promised.

That same Spirit is given to us too, through our Baptism. When we listen to the Spirit and live out Jesus' message, we show the fruits of the Spirit.

Let us be open to the Spirit working in us, in our school community and in our world so that the fruits of the Spirit are obvious to all we meet.


WHOLE SCHOOL MASS
This coming Friday the 2nd of June we will celebrate a Whole School Mass acknowledging Reconciliation Week where we acknowledge the traditional owners of this land, the people, who have walked and cared for this land for thousands of years, and their descendants who maintain these spiritual connections.
Our Mass will be a celebration where we are reminded that God's dream for humanity is one of justice, compassion and equality, of kindness and understanding, of forgiveness and mercy, to be shared by all peoples on earth. Where we will pray that we walk together in a spirit of reconciliation and unity, recognising and valuing each other.
When: Friday the 2nd June
Where: St Finbarr's Chruch Byron Bay
Time: 9:30am
'All are Welcome, All belong'
Our Vision
For the past two weeks I have been working with a group of students from Year 2 who have been living our vision of 'Growing Together as Friends' in their words and actions. I have watched as these girls have worked together as a team during their lunchtimes, listened to one another, allowed each person contribute, positively praised one another and have been wonderfully inviting and inclusive of anyone who wanted to join in with their dances. The girls will perform one of their dance's at this week's assembly and another one at our Week 8 Assembly.
Mrs Sonya Piccoli
AP Mission and Additional Needs Teacher
Learning & Teaching
Staff Development Day
Yesterday, staff worked together at the Lennox Head Community Centre for our Staff Development Day. The learning intention for our day was;
We are learning to develop a collective consensus on the purpose of Professional Learning Teams at St Finbarr's so that we can achieve better results for the students we serve.
Teachers engaged in a number of activities that included professional readings, self reflection tools and team based activities in order to develop a deeper undertsanding on the 3 big ideas of a Professional Learning Community and how our teaching teams can drive this work in their classrooms and with their colleagues.
A professional learning community is a process in which a community of people work collaboratively in recurring cycles of inquiry, problem solving and evaluative thinking to achieve improved results. They are focussed on a particular question, outcome or specific line of inquiry to improve learner results. Within our school we have grade based Professional Learning Teams working together for the students within their cohort.
Our motto from this day is 'we learn by doing'
Book Covering Working Bee
A reminder that we are having a working bee tomorrow in the school hall.
Session 1 is from 9-11am and Session 2 is from 1-3pm.
Please RSVP to lauren.magnus@lism.catholic.edu.au if you are able to help.

Lego Club
Lego Club has been a huge hit on Monday lunchtimes. I am loving observing the students creativity, communication, problem solving and collaboration skills as they imagine, design and create structures. Here are some of their favourite creations so far;

Lego Club
Prev
Showing images
1 - 8
of 11
Next
Yours in Partnership,
Lauren Magnus

Sports News
Diocesan Cross Country
Congratulations to all of our St Finbarr's students who competed in the Diocesan Cross Country Carnival, held in Grafton last week. Tweed Zone was the overall winning team of the carnival on the day.
Well done to the following students who have qualified for the Polding Carnival to be held in Sydney, next week. We wish them all the very best.


Milla P (1st) -11yrs Age Champion
Isla C (7th)
Charlie S (7th)
Hamish K (3rd)
Angus A (4th)
Hayden C (2nd)- 8/9yrs Runner Up Age Champion
Mila H (5th)
Lisa Clark,
Sports Coordinator
DIO Cross Country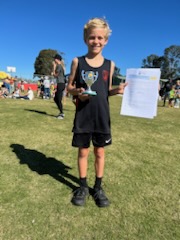 Prev
Showing images
1 - 8
of 9
Next
Student Awards
Parent Connect