Term 2, Week 2 Newsletter 2023
Principal's Message
Feedback
Tell them from me Survey
As part of our focus on school effectiveness, we are participating in an online survey: – Tell Them From Me​ ® (TTFM ®). The survey will provide us with valuable feedback on what teachers, parents and students (Yr 4-6) think about school life, how engaged they are with school and the different ways that teachers interact with them. Schools in Australia and around the world have used the Tell Them From Me survey to help them improve.
Parents and teachers will be provided with an opportunity to complete the survey at their leisure between now and 12th May and students will be given the opportunity and time to participate in this survey during regular school hours.
Last year we had 61 responses from families and at present we have 25 responses. We would love to hear feedback from many more.
Reflecting on staff, parent and student feedback helps us to plan ahead to continually look to improve all we do as a school in providing the best education for our students. Our annual goals for 2023 are as follows:
| | |
| --- | --- |
| Domain | Annual Goals for 2023 |
| Mission of Jesus Christ | Engage our community with our Catholic Identity |
| Learning & Teaching | Embed data informed learning and teaching in Mathematics to improve student learning outcomes |
| Family, School & Community Partnerships | To be a school where parent partnerships are strong and supportive |
Anzac Day
The rain stayed away for the annual ANZAC day march last week. Thank you to those families who supported the school by allowing children to attend and having them dressed proudly in their school uniform. Special thanks to our senior representatives Hamish and Tilly who read beautifully with their presentation on the impact of the Kokoda Track on WWII.
Canteen
We are hoping the canteen will be up and running next week. A huge thanks to our team of parents who are supporting Jay with the venture. Morning coffees will be available soon and the full menu will be available shortly. Once up and running students may purchase hot chocolate drinks (not coffee) before school, however, are required to consume them safely in the area on the verandah in front of the hall.
Below is a message from Jay:
A message from Gather Community Project
Hi all,
We have been super busy over the holidays getting organised to open the canteen for the start of term 2. We are extremely excited to open and can't wait to get to know you all. Unfortunately, services in Australia have been inundated with applications for WWCC and due to the public holidays there has been a huge backlog. We have been in contact with them and we should receive it any day now. We are aiming to be open for service next week but again this will all depend on the approval - once we know, you will know also.
We will be sending out an email to everyone over the next few days with a link to our new canteen menu which you can get to know before opening day, it will also have a bit of information on how to pre-order, gift cards/accounts & all other important information you might need.
Thank you all for your patience and support so far & we are very excited to watch this project develop.
Kind Regards,
Jay
Gather Community Project
Mother's Day

Save the date:
Friday 12th May 7.30am Breakfast. All welcome
Parent Community Group

A suggestion from the Parent Community Group was for the school to install chilled filtered water fountains for the students. We have a group of parents looking into this at the moment and could really use the help of a plumber and electrician to help us in keeping the costs down. Please let us know if you are able to assist in this area.
After School Activities
Activity
Organiser
Day
Bush School
Rohan 0407898374
Wednesday 3.30-5.00pm
Finnies Fitness
Youth Academy
Tory 0412221389
Monday 3.15pm-4.15pm
Drama
Make Believers
Sam & Jade 0432366830
Wednesday 3.15pm-4.15pm
Hapkido
Eli 0404489781
Tuesday/Thursday
Bush School

The Bush School After School program at St Finbarr's is about to kick off tomorrow, Wednesday 3rd May for another term of adventurous natural learning! The program runs from 330-5pm each Wednesday. This nature based program conducted entirely outdoors is a fun, active and engaging way for your child to learn about nature while building confidence and resilience.
We utilise the beautiful Arakwal Nature Reserve adjacent to the school grounds and the School's own Nature Play Area (for fire lighting tuition). We play games with nature based themes, learn about plants and animals and as the weather cools we'll be honing our fire lighting skills. Come and join in the fun!
The group is open to ages 6-12, the cost is $220 for the 8 weeks.
Bookings can be made on our website at brunsbushschool.com.au by going to the programs tab and looking for the St Finbarr's after school program. If you have any more questions, call Rohan on 0407898374.
School Entry
For everyone's convenience we have reopened the large sliding gate near the bus bay closest to the school office before and after school. Please cross the road safely with your child when using the Arakwal Crt parking space.
Term Two School Fees

Term 2 school fees have been issued and are available on your school Compass App. Accounts are due to be finalised in 30 days and we ask that any outstanding term 1 fees be finalised as soon as possible. If you need to discuss your school fee account please contact Alison Mason in the school office.
School Assembly
Please join us this Friday at 2.15pm for our school assembly, all welcome.
Yours in Partnership,
Tim Bleakley - Principal

Mission
Living Our Vision
Last Monday all teachers participated in a Professional Learning Day. Part of this day was dedicated to focusing in on our School Annual Improvement Goal for Mission at St Finbarr's which is to:
'Engage our school community to learn and live out our school vision-Love Like Jesus, Grow Together As Friends, Learn For life.'
To start the process of working towards our goal, teachers engaged in conversations based on the vision we have for all students and discussed how we define and demonstrate our vision at St Finbarr's.
Our students have now started the same process in class having discussions based on what the vision is, their understanding of the vision and ways we may see our vision demonstrated each and every day at St Finbarr's.
Over the next few weeks student representatives from each class along with our teachers will work together to synthesise these findings that define and demonstrate our Vision at St Finbarr's. Please see below a wonderful example of the work Year 3 Wategos have completed based on their understanding on defining and demonstrating 'Loving Like Jesus'.
At each fortnightly Assembly, one class will be nominated to share real life experiences of how, in their class, they have demonstrated our shared vision during that fortnight.
First Reconciliation and First Holy Communion Parent Meeting
A reminder that the Parent Meeting for parents who would like their children to receive the Sacrament of First Reconciliation & First Holy Communion will be held tomorrow night, Wednesday evening the 3rd of May at St Finbarr's Church at 6:30pm.
To receive the Sacrament of First Reconciliation and First Holy Communion students must be:
in Year 4 or above

baptised Catholic

have already received the Sacrament of Confirmation.
First Reconciliation will be held at St Finbarr's Church, Byron Bay on:
Tuesday the 6th of June 6-7pm and
Wednesday the 7th of June 6-7pm
First Holy Communion will be held at St Finbarr's Church, Byron Bay on:
Saturday the 2nd of September at 6pm
It is necessary that at least one parent attends this meeting to register your child. If you have any questions or concerns, please contact the Parish office directly:
Phone: 02 66 856260 or email stfins@bigpond.com
Parish Community
Our students are so blessed to be a part of a Catholic school that is part of the Holy Spirit Parish Community. We have such dedicated members in our Parish community who are involved in many aspects of our wider community and it is always wonderful for our students to see and connect with parishioners in broader community events.
Family Matters
Did you know that if you Google 'parenting books', you get over 35,000 results? That number does not even include, the sometimes contradictory, vlogs, blogs and well-meaning advice from the in-laws. Admittedly, parenting our next generation is the most critical task there is but that is an overwhelming amount of information!
God's plan for parenting is simpler and can be summed up in one word - GRACE. But what exactly does it mean to parent with grace? God's grace can be defined as the undeserved love and favour God bestows upon us.
Parenting with grace means loving our children like God loves us so:
We love our children abundantly, wholeheartedly and during those times when it's hard to feel and show that love, we pray, "God fill in the gaps of my limited human love with your limitless love."

We see our children as a gift from God: "You are precious to me. God has given you to me, and me to you, so let's treasure each other."

We advise our children of their purpose: "You are God's unique creation with a special purpose, so go make a difference."

We set boundaries for our children, just as God sets them for us and we discipline with grace

.

Grace-based d

iscipline, unlike punishment, isn't about getting even or settling the score; it's about reformation and restoration so we can redirect our children toward a path that leads to peace, joy and their eventual good.

We teach them about forgiveness: "You may struggle doing the right thing sometimes: but you're forgiven".
When we approach parenting with God's grace as our starting and finishing point, we can parent with a confidence that comes from knowing that God profoundly loves us.
The Soul
Yours in Partnership,
Mrs Sonya Piccoli
Assistant Principal-Mission & Additional Needs
Learning & Teaching
Last Monday as part of our Staff Development Day teachers worked Deb Dwyer from the Catholic Schools Office on our School Annual Improvement Goal for Learning and Teaching, which is to:
"Embed data informed learning and teaching in Mathematics to improve student learning outcomes"
The goal of the session was " To deepen our understanding of the new Mathematics Syllabus and the Maths Block so that we have shared and consistent alignment across the school."
We were all asked to finish this sentence "Mathematics is.......... In one word, define Mathematics." I would love to ask you to have a go at this too. Maybe have a chat around the dinner table one night.

It's really tricky isn't it. We had answers ranging from: real world, hands on, everywhere, numbers, problem solving, to.....hard, used everyday, fun and challenging.

Within this session we also looked at the changes within the new syllabus and how this looks in the classroom. Mathematics looks very different now to how it did 10, 20 and 30 years ago. Our discussion focussed heavily on helping students to build a conceptual understanding as opposed to a procedural understanding. The NSW units of work provide a connected approach that supports students to see the links across mathematical strands. For example: understanding the concept of "equality" in maths allows students to look at this concept in place value, addition and subtraction, measurement and converting units, mass and equal arm balances, fractions etc. This approach supports students to build a deeper understanding, see purpose in the mathematics they are doing and transfer their understanding across multiple substrands.
Book Angels
Just wanted to say a HUGE thank you to the wonderful mums, dads, grandparents and carers (AKA Book ANGELS) that helped us to cover the new K-2 home readers. We are SO grateful and so excited to be able to send these home to support our students in their learning. Another few boxes have arrived and we will be putting another call out (paid with food and coffee of course) so please keep an eye out.
School Photos
A reminder that school photos are this Thursday. All students are to wear full school uniform - NOT Sports uniform.
Mother's Day Breakfast Picnic
Please see below: More detailed information to come this week.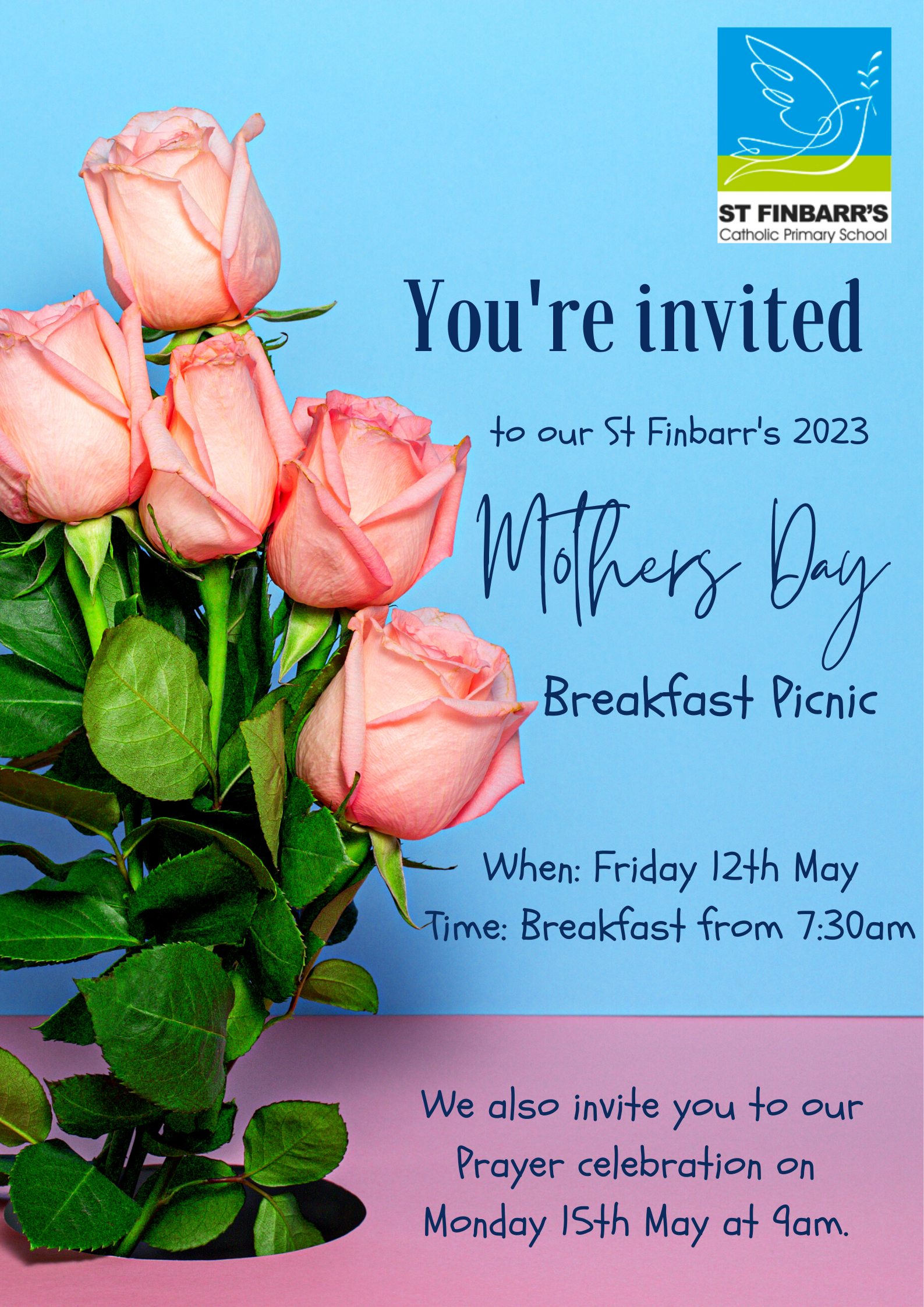 Yours in Partnership,
Lauren Magnus
Assistant Principal Learning & Teaching
Sports News
School Cross Country
We wish our team of 48 students the very best when they compete at the Zone Cross Country Carnival,this Friday.
State Swimming Carnival
Congratulations to our four St Finbarr's swimming competitors on their 10th placing in the Junior Boys Relay at the State Swimming Competition held in Sydney.
Winter Sports Trials-Soccer
Well done to Marley, Milla and Nancy who participated in the Polding Winter Soccer trials last week.
Lisa Clark
Sports Coordinator
Student Awards
Parent Connect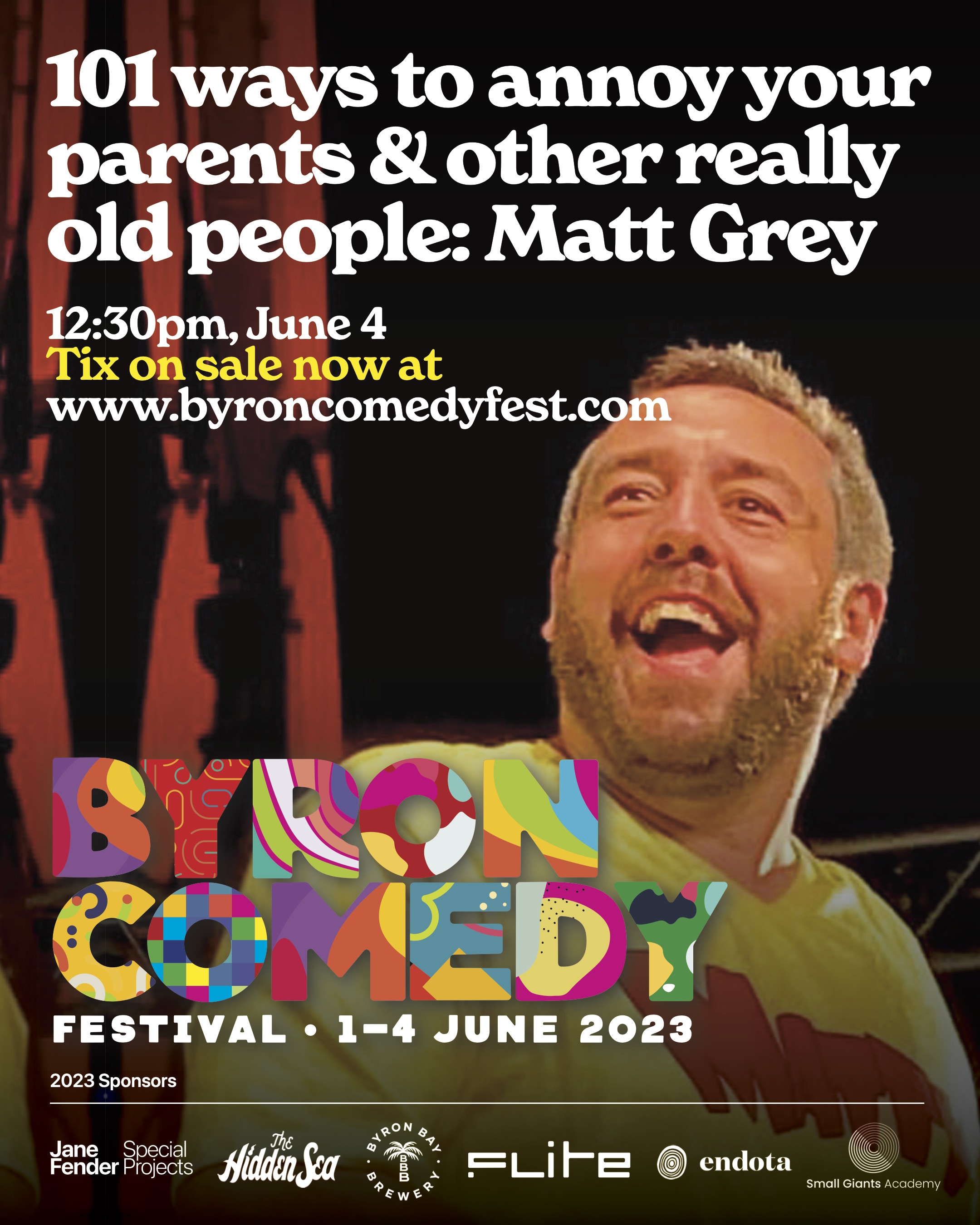 Music Tutor
Deb Bond
GUITAR and/ or SINGING LESSONS
PH - 0403 547 930
Byron Bay.