Term 1, Week 6 Newsletter
Principal's Message
Last night, interested parents gathered for the first time this year to discuss the formation of a parent school body. It was wonderful to have a cross section of the school community with parents of students from Kinder right up to Year Six. Discussions were led by the school leadership team and parents spoke of their hopes and dreams for the group for 2023 in aiming to create a strong parent community where their voices are heard and valued. Below are some of the statements that were highlighted by the discussion groups.
What is the St Finbarr's School Community Group?

Student-centred and community-focused.

Partnerships building.

Improving the well-being of all students.

Welcoming and Inclusive.

Acknowledging the diversity of parents and carers.

Seeking to engage parents/carers to contribute their unique skills, gifts and insights.

Strengthening the relationship between school and family.

Improving the connection between learning at school and learning at home.

Promoting regular, meaningful and ongoing dialogue about children's educational, spiritual and wellbeing needs.

We look forward to building on the work of the group throughout the year. Our next gathering will be Monday 27th March at 5.30 pm in the school hall. We are also now calling for nominations for Class Parent Representatives and for a Chairperson for the Parent School Community group. Class parents become the vital link for class communication and can assist with coordinating class get togethers etc. Please contact the office or email Mr Bleakley for more information or to place an expression of interest for these roles. Parent involvement is very much valued and appreciated at St Finbarr's.
Parent Night Shared Ideas
Tuesday Jam Sessions
Each Tuesday 8.15-9am
Today we hosted our first Tuesday Jam session for interested Musicians. A big thanks to our Dads who helped out and the children in the band and audience loved the experience. We'd love to see you next week, all welcome.
Jam Session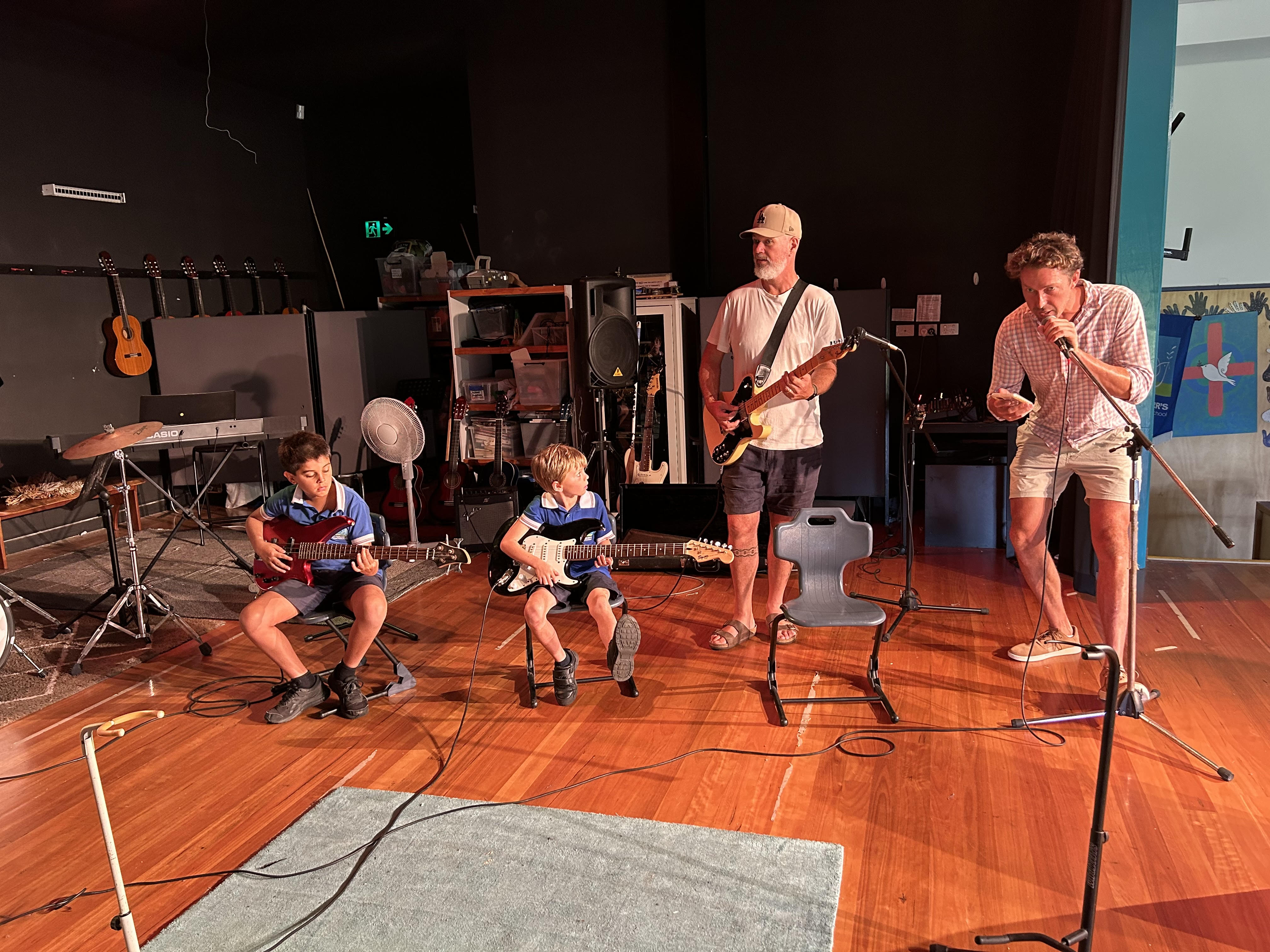 Learning Disposition
Our new learning disposition for the remainder of the term is Take Risks - Students are encouraged to try new things and step out of their comfort zone.
School Fees
Term 1 school fee statements were distibuted to families last week. Term 1 fees now include the full year of levies, except the building levy which will be divided equally over the four terms. We understand it is a larger amount than previous years, where school fees and levies were equally divided amongst the four terms. We do not want to add extra pressure to families and just ask that term 1 fees are finalised by the end of term. If you are experiencing financial difficulties, please contact Alison at the office to discuss a payment plan.
Bus Passes
Blanches have delivered some of the student bus passes to the school today. They will come home with your children today, there will be more delivered shortly. If you apply for a bus pass later in the year, the passes will be distributed by the bus driver.
Assembly
Please join us for the assembly this Friday at 2:10pm in the school hall, all welcome.
Kindy Mums' Lunch
It is so great to hear about parents building relationships within the St Finbarr's community. It looks like the Kindy Mums' had a wonderful day getting to know each other last weekend.
Yours in Partnership,
Tim Bleakley
Principal
Mission
Confirmation
Last Wednesday night, a number of parents registered their children to continue in their sacramental journey and to prepare for the Sacrament of Confirmation. Father David spoke to each family about the significance of this special sacrament and how Confirmation consists of the renewal of baptismal promises and that through this sacrament we recieve the gifts of the Holy Spirit. Bishop Gregory Homeming will preside over this sacrament which will take place at St Finbarr's Church on Tuesday the 28th of March at 6pm. All of our Families are invited to attend this special event and we pray for the students and their families who are preparing for this in the coming weeks.
Religious Education
Over the past couple of weeks I have spoken to a number of parents in regards to Religious Education at St Finbarr's.
Our Vision at St Finbarr's is for all students to:
Love Like Jesus
Grow together as Friends
and
Learn for Life
Our faith is what underpins our vision. Religious Education is at the heart of our Catholic school. It is where we break open the Gospel of Jesus to deepen our understanding and responsibility as followers of Christ, teaching us how to live out our vision at St Finbarr's in our words and actions each and everyday.
"Religious education in Australian Catholic schools develops students' knowledge and understandings of Christianity in the light of Jesus and the Gospel, and its unfolding story and diversity within contemporary Australian and global society. It expands students' spiritual awareness and religious identity, fostering their capacities and skills of discerning, interpreting, thinking critically, seeking truth and making meaning. It challenges and inspires their service to others and engagement in the Church and the world."
(NCEC – Framing Paper Religious Education in Australian Catholic Schools. 2018, p7)
K-2 Mass
Next Friday the 17th of March at 9:30am our K-2 students will be celebrating Mass at St Finbarr's Church, Byron Bay. All familes are warmly welcomed to attend what is sure to be a wonderful celebration.
St Patrick's Day
Next Friday the 17th of March is St Patrick's Day. We invite all students to wear green and bring along a gold coin donation as a part of raising money towards Project Compassion.
Yours in Partnership,
Mrs Sonya Piccoli
AP Mission & Additional Needs
Learning and Teaching
Curriculum Reform + Play Based Learning
As you are aware students in years K-2 are learning from the new NSW Syllabus for Mathematics and English. It has been 30 years since the last significant reform of the NSW curriculum. Therefore the teaching and learning of phonics, reading, writing and spelling look very differently to how they have over the past 30 years. This change was not by choice here at St Finbarr's but rather a statewide curriculum mandate.
Play based learning is still an approach that is used and implemented at St Finbarr's however it does look different to how it did over the past few years. Many of the activities within the English and Maths learning programs are hands-on with a play based philosophy and students are given many opportunities to explore concepts across the curriculum through play, creative arts and hands-on activities.
The Mathematics and English programs that the students are learning from have been written by experts and are being delivered in most primary schools across the state. What is being taught and assessed, how it is being delivered and the time frames we allocate to this learning is now mandated by the state and system, beyond how it has been in the past.
Next year, students in Yrs 3-6 will be learning from this new curriculum also. As more information is shared on the changes, we will continue to share this with you.

We are very lucky that as a system we are very supported to implement a new curriculum with internal and external professional learning provided for teaching and leadership teams.
You can rest assured knowing that despite students across the state learning from the same programs, our teachers bring their own expertise, experiences and approaches to enhance the learning to ensure it suits our students, their abilities, interests, strengths and areas for development. As we continue to explore the new curriculum we will be able to further enhance it and make it our own.
NAPLAN
Students in Yrs 3 and 5 will be participating in NAPLAN next week (it has been brought forward from May). The students will begin their first assessment, writing, on Wednesday the 15th of March and assessment window will conclude on the 27th March.
If your child is going to be away at all during this time please email the classroom teacher and or myself: lauren.magnus@lism.catholic.edu.au so that I can record this. For further information on NAPLAN you may like to visit https://www.nap.edu.au/naplan
Communication
A reminder to please ensure you have downloaded the COMPASS App and have notifications turned on. This will ensure you never miss any important notifications / events from school.
Our fortnightly newsletter; announces our student awards for upcoming assemblies, as well as important information from Leadership and lists upcoming events. We also showcase class work and photos of learning and school life in our Newsletter. It is crucial that all families are reading our newsletters to ensure no information is missed.
We have a School Facebook page, which often shares "good news" stories, as well as advertises upcoming events, and notices. On top of this, we also have a St Finbarr's Second Hand Uniform page on Facebook - which allows parents the opportunity to buy/swap/sell any uniforms within our school community. If you haven't already done so, please request to join this group (it's a private group) so that you can access second hand uniforms if you wish.
In addition to this we also have the St Finbarr's Instagram account, which is similar to our FB page, in that it shares "good news" stories, but also has added features of creating "Highlights" and "Reels" to share school photos and events.
Yours in Partnership,
Lauren Magnus
Assistant Principal - Learning and Teaching
Sports News
Diocesan Swimming Carnival-Kempsey
Well done to our five St Finbarr's students who represented the Tweed Zone at the Diocesan Swimming Carnival, last Friday. As usual a very big thank you to the parents for making it possible for them to compete.
Hazel- 50m Freestyle (4th)
Ned- 50m Freestyle (1st)
Roley- 50m Freestyle (2nd), 50m Breastroke (2nd), 50m Butterfly (4th)
Ned, Roley, Oliver, Hugo- Junior Boys Relay (2nd)
Congratulations to Ned, Roley, Oliver and Hugo who now will progress onto the Polding Swimming Carnival. We wish them all the very best.
Diocesan Winter Sports Trials-Grafton/Maclean
Congratulations to the following students who have been selected to trial at the Diocesan Winter Sports Trials this week. Good luck to you all!
Rugby Union: Taj, Alex, Harrison.
Netball: Tilly, Isla
Soccer: Byron, Marley H, Nancy, Milla, Marley R, Kaia
School Cross Country- Week 8 24th March
For those students hoping to be selected for our St Finbarr's Zone Cross Country team, if you haven't already started yet, now would be a good time to start your training.
Lisa Clark
Sports Coordinator
Student Awards
Parent Notices