Term 4 Week 8 Newsletter 2022
Principal's Message
Teaching Staff 2023
The staffing for 2023 is now finalised. We welcome new staff members Abbi Powell, Rachel Mitchel, Lachlan Dwyer, Hannah Watts and Matthew Bennett. Each new teacher brings a wealth of skill, professionalism, passion and a commitment to delivering the best learning for all students.
We are very excited to be moving away from the combined Stage groupings and our new model will offer a consistent Teacher Aide in each year level for additional student support. Classes are currently being finalised with students today being invited to nominate fellow students who they would like to have in their class. We will then attempt to accommodate these requests by having at least one support friend in the class for each child.
At St Finbarr's we do not take personal parent requests for particular teacher preference or based on friendship connections with students. We thank you for your understanding in this matter and for supporting your child to begin the new school year with optimism and a positive approach.

As classes for 2023 are being finalised please notify the school as soon as possible if you will not be returning in 2023.
In future newsletters we will profile our new staff members to learn a little about them and welcome them to the school community.

Welcome Lachlan Dwyer. Lachlan is originally a Northern Rivers local although has spent the last six years teaching at Salesian College Chadstone, Victoria. Interests include Cooking, Hiking, Camping, Gardening and spending a fortune at Bunnings! I'm sure Lachlan will love working with our Year Six students in 2023 and we look forward to him being a part of the team.
Lachlan Dwyer
In other staffing news, Miss Pippa Reynolds will be taking leave for the 2023 year and commences her leave from this Friday. This Thursday 1st December will be her final day at school this year. Pippa is a committed, professional and passionate educator and we look forward to her returning to the staffing team in 2024.
Cyra Fisher will be finishing her time as Canteen Coordinator at the end of the school year. We thank Cyra for her 11 years of service at St Finbarr's. During this time Cyra has seen many students and families move through the school and she has been an important part of the St Finbarr's community. In 2023 we will be moving to Compass for ordering and no longer using the Flexischools App. More canteen news will be available at a later date.
Library Book Returns
Students have enjoyed their library sessions and borrowing this term. Library books can be returned to the front desk over the next two weeks. Library borrowing has finished for the year.
Step Up Day for 2023 Classes
On Monday 12th December we will have a Step Up morning for students to be with their class and teacher for next year. We believe this is an opportunity to allow all of our students to transition smoothly. The Step Up Day will be held in the classrooms that have been allocated for classes for 2023.
Exciting Learning in Year Two
We love to see parents and family members involved in school life. The past few weeks have seen Year Two students showing creativity and helping protect our fragile environment. A big thank you to parents and grandparents who helped with the construction of animal habitats in the space behind the classrooms. It was wonderful to see them mentoring the young children.
School Uniform
Several students will have received Uniform note reminders in the past week. In 2023 there will be a major focus on ensuring the correct school uniform is worn with pride each day. Of particular note, we will also be ensuring that the correct school shoes are worn.
In 2023, the wearing of sports uniforms for the whole school will be on Mondays and Fridays. We are also following stringent health guidelines particularly with head lice concerns, ensuring all long hair (boys and girls) is tied back.
Anyone wishing to join the Uniform Team as we seek feedback and implement potential changes to the uniforms please contact the office. We would love to have your input.
Yours in Partnership,
Tim Bleakley
Principal
Mission
Season of Advent
Last Sunday marked the beginning of Advent in 2022. Advent is a time of expectation and hope filled with rich traditions. "Advent" means "arrival" or "coming".
Advent wreaths are a beautiful symbol to remind us to celebrate the month of December leading us to Christmas Day. Advent candles are placed within the advent wreath, with each candle representing the four weeks of Advent. At the beginning of the Advent season we light the first purple candle which symbolises HOPE.
This small light will increase over the 4 weeks of Advent as we light an additional candle each week. This adds to the expectation of the coming of Jesus, Light of the world, into our midst.
Dear God,
Help us to accept that we are the clay and that you are the potter.
Throughout this first week of Advent,
help us remember that we are your people and that you are our God.
Help us get our priorities right and put the
most important things first: loving God and loving our neighbour.
Amen
K-2 Mass
Last Friday our Kindergarten, Year 1 and Year 2 students gathered at St Finbarr's Church for a Parish School Mass to celebrate God's creation. The students brought forth symbols to represent the beauty in all of God's creation. Each child brought in a photograph of themselves enjoying God's creation whether it was a photo of their pet, enjoying a day at the beach or visiting a rainforest.
All students actively participated in the Mass and the church was full of song and celebration. It was wonderful to see so many families and parishioners celebrating with the students.
Father David reminded the students of God's love for all of His creation which includes each and every one of us. He had every child captivated during the homily as he spoke to the children of two beautiful baby plovers who had hatched just the day before outside of the church, explaining to the children that just as the parents of the baby plovers care for them, so too must we care for all of God's creation.
St Vincent de Paul Christmas Appeal
Christmas is the celebration of the birth of Christ. The greatest gift given to the world should be a season of happiness and joy, for sharing gifts, food and time with family and friends.
However, Christmas can be a challenging time for those in need in our community and put a strain on the vulnerable. To be able to support those in need within our community, we are working with St Vincent de Paul to support their Christmas Appeal.

In the past we have delivered food hampers, however this year, St Vincent de Paul has kindly requested that we donate vouchers from any local supermarket or store - Woolworths, Coles, Aldi, IGA, Kmart, Big W and our local business to be given to families at Christmas time to assist them with this special family time.

So that we can support this wonderful appeal, from next Monday the 6th of December, we will be selling Zooper Doopers at the school canteen each day during lunch and recess for $1, with the money from each sale being used to purchase these vouchers.

We thank you in advance for your generosity in supporting the Christmas Appeal.
Yours in Partnership,
Mrs Sonya Piccoli
Assistant Principal -Mission & Additional Needs
Learning and Teaching News
This past week I have had the pleasure of working in Stage 2 Bradman with Mrs Boggis and the students for Mathematics. We have been learning about the relationship between fractions, decimals and percentages.
The students engaged in a series of hands-on lessons to support their understanding that fractions, decimals and percentages are parts of a whole.
We all had so much fun and the students demonstrated perseverance and deep thinking when concepts were challenging. The students supported each other's thinking and it was wonderful to see such collaborative learners willing to help each other with their learning.
#mathsisfun
#funwithfractions
Yours in Partnership,
Mrs Lauren Magnus
Assistant principal - Learning and Teaching
Sports News
Stage 2 & 3 Gala Soccer Day-17th Nov
All of Stage 2 & 3 attended the Newcastle Permanent Gala Soccer Day in Ballina. The day provided students with an opportunity to learn new skills and socialise with students from other schools in a non-competitive environment.
Gala Soccer Day
Prev
Showing images
1 - 8
of 13
Next
K-2 Intensive Swimming
All students from Kinder, Year 1 and Year 2 began their Intensive Swimming Program this week. Students will be working on improving their awareness and safety around water, with a celebration "Fun Carnival" on their last day, Thursday 8th December. (Year 2 will not be attending the "Fun Carnival" as they will be involved with the Year 2-6 Swimming Carnival held the following day).
Kind Regards,
Lisa Clark
Sports Coordinator
K-2 Swimming
$20 Boss Program
This Term, Stage 3 has been focusing on the $20 Boss Project. This project is where students create their own business idea resulting in a Market Day. Last week a market day was held to sell our finished products. Our items raised a total of $2000 and all profits were donated to charities. We got the chance to choose the charity and eventually landed on Starlight, Lismore Flood Appeal and Byron Bay Wildlife Sanctuary. This project taught us to budget, work as a team and become better entrepreneurs for the future. At the end of the day, we had heaps of fun and it will go to a good cause.
Marley. Q and Honey. I
$20 Boss market Stall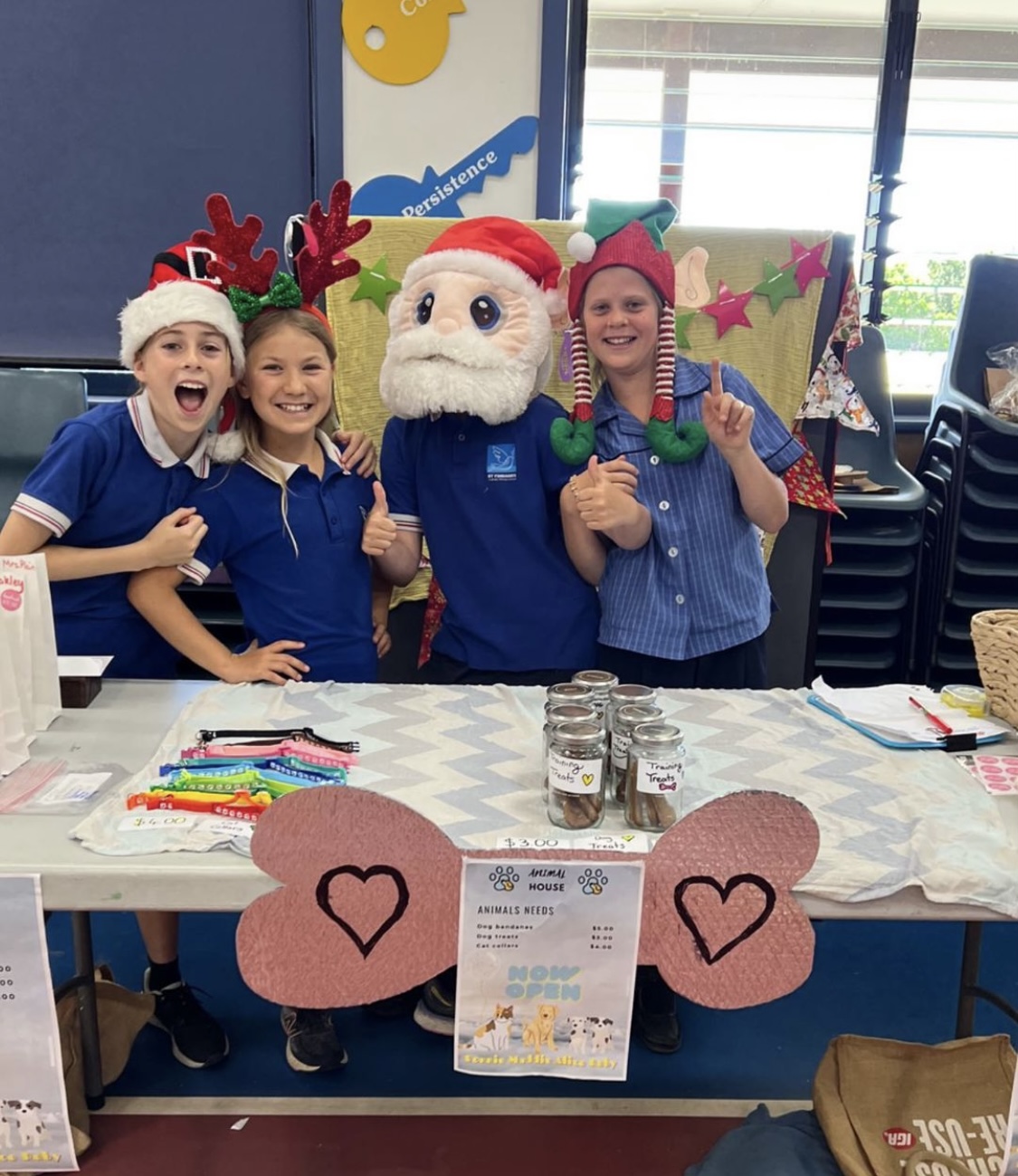 Student Awards
Consent & Respectful Relationships Webinar
St Finbarr's Golf Day
Finnies Golf Day a Great Success
The golfing Gods were kind to the players last Sunday afternoon and the 44 competitors experienced only a few drops from the sky. It was a fantastic afternoon with plenty of laughter and cheers heard around the course.

Special thanks to our sponsors for their generosity;
Major Sponsor - Sommerville Laundry Lomax - Ben Robin
A1 Estimates - Tom Jordan
Apollo Property - Leon Bowes
CKB Projects & Consulting - Craig Barry
New Beach - James Gourley
Pacifico Property - Christian Sergiacomi
Reclaim Energy - Chris Taylor
Trilogy Private Wealth - Pat Giddy
Thank you to Anna Gilham and James Gourley for their great work sourcing raffle items, and well done everyone who won a prize on the golf course or in the raffle.
Michael Hardman
Byron Bay Junior AFL Club
Creative Writing Masterclass for Kids Holiday Workshop