Term 4, Week 6 Newsletter
Principal's Message
Remembrance Day
The school celebrated a beautiful Remembrance Day liturgy in the school hall. The highlight of the gathering was the beautiful choir with Freyja, Sophie and Sasha accompanying Mrs Piccoli in a moving tribute to those who gave their lives for their country. We look forward to the return of our school choir as we head into end of year celebrations.
Our Minifins program winds up this week with the final parent session next Monday at 9.15 am in the school hall. Staff, parents and students are excited for the commencement of the new Kinder cohort in 2023. Year Five students will be supporting their new Kinder 'buddies' in the final Minifin session.
Next Friday the 25th at 9.30 am Kinder, Year One and Year Two will celebrate their final Mass for the year and all parents and families are most welcome to join us.
14 Parameters of Learning
Following from our previous newsletter, please see below the work staff are currently exploring in staff meetings and Professional Development days to improve student learning throughout the school.
The 14 Parameters of System and School Improvement
1. Shared beliefs and Understandings
a. All students can achieve high standards given the right time and the right support.
b. All teachers can teach to high standards given time and the right assistance.
c. High expectations and early and ongoing intervention are essential.
d. All leaders, teachers, and students can articulate what they do and why they lead, teach, and learn the way they do. (Adapted from Hill & Crevola, 1999)
2. Embedded Knowledgeable Others
3. Quality assessment informs instruction
4. Principal as lead learner
5. Early and ongoing intervention
6. Case management approach
7. Focused Professional Learning at staff meetings
8. In-school meetings - collaborative assessment of student work
9. Book rooms of leveled books and multi-modal resources
10. Allocation of system and school budgets for learning
11. Collaborative Inquiry - a whole-system approach
12. Parental and community involvement
13. Cross-curricular literacy connections
14. Shared responsibility and accountability
a. We all own all the FACES!
Staff Farewells and Nativity Play

What a beautiful way to end the year and also farewell two outstanding long standing staff members. Please join us on Monday 12th December at 2.00 pm in the school hall as we pay tribute to Mr Tom O'Dwyer and Mrs Donna Clark. Year Two will present their special version of the birth of Jesus at the commencement of this gathering.
Term 4 School Fees
Term 4 School fees are now overdue, thank you to all those families who have paid their account. For those who are unsure if your fees are finalised for 2022, please refer to your Compass APP for outstanding invoices. Could I ask that all outstanding Term 4 fees be finalised by the end of the week. If you require assistance with school fees, please contact Alison Mason in the front office.
Ninja Warriors Challenge
Well done to the organising team and our three winners in the Ninja Warriors challenge last week. A great initiative by the boys!
Yours in Partnership,
Tim Bleakley
Principal

Mission
Father David Gilbey
This Sunday marks 35 years to the day of Father David Gilbey's Ordainment.
Father David Gilbey was ordained on Friday the 20th of November 1987 by Bishop John Satterthwaite in Coffs Harbour. This is a truly remarkable achievement highlighting many years of dedicated service to the Church and commitment to God.
Father David, we appreciate your dedication to service, your articulate and thoughtful homilies especially during school masses and guiding us on our journeys of faith - with the Sacraments. We thank you for the many ways you have inspired, served and led people to Christ through your 35 years of dedicated priestly ministry.
From all of us at St Finbarr's Catholic Primary School, we congratulate you on this milestone of devotion and service and pray the love of the Lord continues to guide, direct and strengthen you to continue the ministry entrusted to you for many more happy and healthy years ahead.
With our sincere congratulations, blessings and thanks,
St Finbarr's Catholic School Community
Accendere
Last Tuesday our Year 4 students attended the retreat day, Accendere. Accendere means to 'switch on', kindle to catch fire, light to strike, to produce/spark the flame. The Accendere program supports students on their faith journey and allows them to be immersed in a day that focuses on the theme of friendship based on the scripture,
'And now I give you a new commandment: love one another. As I have loved you, so you must love one another. If you have love for one another, then everyone will know that you are my disciples.'
John 13: 34-35
The day was held at the Lennox Head Community Centre where our Year 4 students rotated through a variety of activities which included games, creative arts and storytelling that focused on the concept of friendship and the importance of having healthy relationships. The day ended with a beautiful student led liturgy.
I would like to thank our Year 4 teachers, Miss Bronte Doolan, Mrs Sharon Boggis, Mrs Lisa Clark and Mr Paul Hanslow who did a wonderful job organising and facilitating the retreat.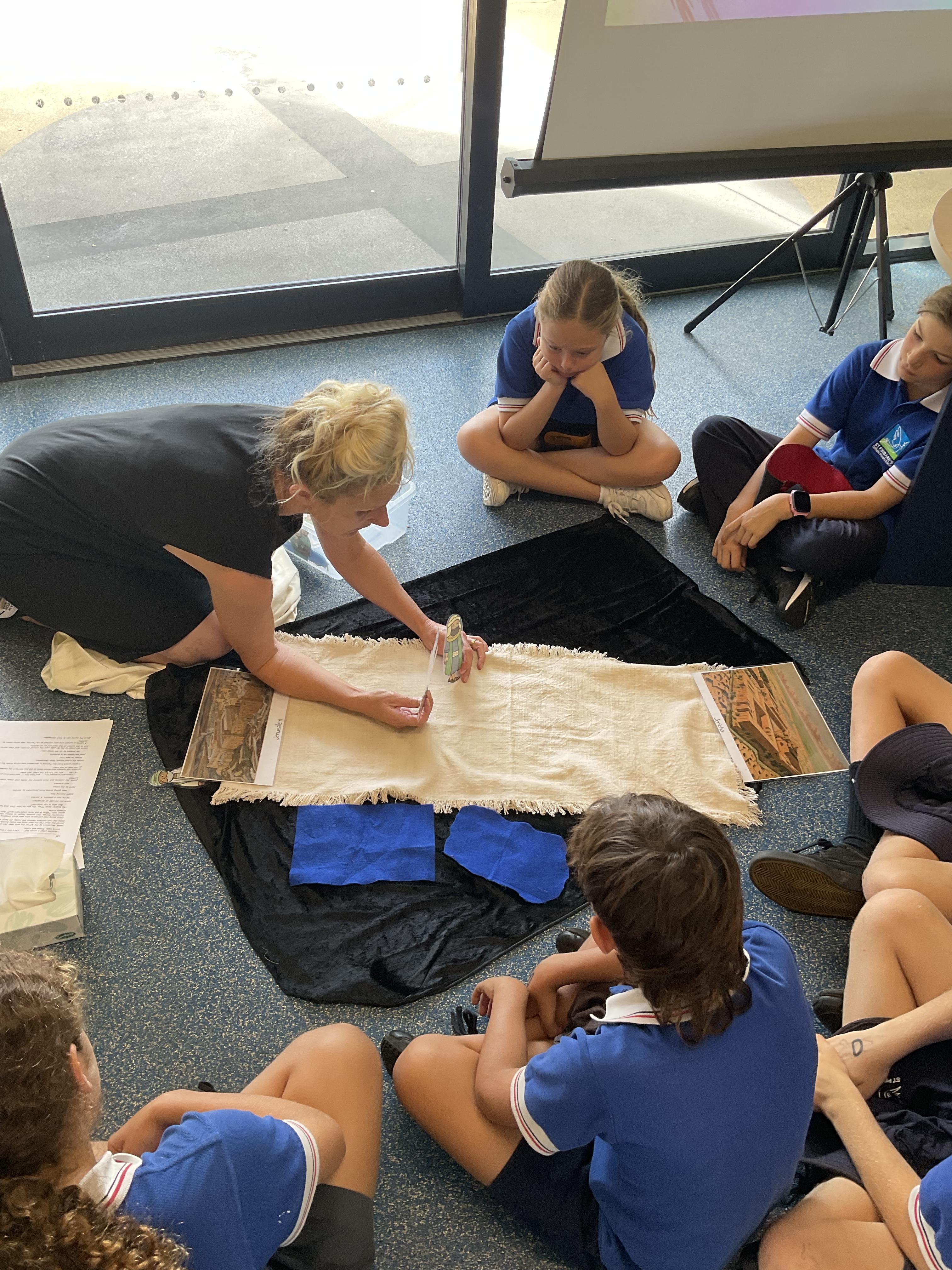 K-2 Mass
Our Kindergarten, Year One and Year Two students will be celebrating Mass on Friday the 25th of November. All families are warmly invited to attend what is sure to be a beautiful Mass.
When: Friday 25th of November
Where: St Finbarr's Church, Byron Bay
Time: 9:30am
Advent
The season of Advent begins on the fourth Sunday prior to Christmas day which, this year, falls on Sunday the 27th of November. Advent is the season when we prepare our hearts to celebrate Christ's first coming at Christmas two thousand years ago
Sometimes when we think of Christmas, presents and gifts always come to mind. But can we start giving gifts before that?
Can we use this season to be more mindful of the gifts we can give each day, such as the gift of understanding, compassion, joy or peace? Can we be generous in our deeds and kind in our thoughts?
Advent is a time where we can reflect and share these gifts with each other before Christmas making this time a time to live out Jesus' message. The season of Advent offers us a time for patience, a time for waiting, a time to focus, prepare and appreciate the meaning of Christmas on a deeper level.
Prayer for Advent
Gracious God,
you sent us your son Jesus to show us how to be
kind and understanding, honest and true.
Open our hearts so that we may be prepared for your coming
by sharing our gifts of
understanding, compassion, peace and joy with each other.
Help us to give freely of the gifts which
cost us nothing but thought and effort.
We ask this prayer in Jesus' name.
Amen
Yours in Partnership,
Mrs Sonya Piccoli
Assistant Principal -Mission & Additional Needs
Learning & Teaching
Staff Learning = Students Learning Too
As you are aware Mathematics is a focus for us at St Finbarr's this year. The teachers have been working closely to analyse data, identify trends, patterns and gaps and plan lessons accordingly. School improvement is impossible without a shared vision so part of this work has also been to refine our shared beliefs and practices to ensure we are all clear about what Mathematics lessons at St Finbarr's should look like.

We believe that it is important for students to know what they are learning and why (and that they can articulate this) - we call this our learning intentions. We also believe that it is important for students to utilise the "third teacher" (our classroom environment) to help them with their learning. We want our students to feel a sense of achievement and to know how they are going with their learning - ensuring we co construct success criteria with the students enables them to be a part of the planning which supports them to know what success looks like.

To ensure we are continuously reflecting and improving our leadership team walks through the classrooms to look for evidence that our professional leanring and shared beliefs and practices are being enacted. We can then identify our next steps for learning and success.
Mini Fins
This week we welcomed all of our Mini Fins students together- our 2023 Kindy cohort. It was so lovely to connect with the students and their families. The kids had a great time exploring Nature Play
Mini Fins
Yours in Partnership,

Mrs Lauren Magnus
Assistant Principal - Learning & Teaching
Sports News
Tweed Zone Summer Sports
Well done to all of the students who nominated and participated in the Summer Sports Trials.
Congratulations to:
Hamish. K-Tennis
Jackson. G- Cricket
Angus. A- Touch
On their progression to the Diocesan Trials held later in the term. We wish them all the very best.

Todd Woodbridge Cup-State Finals( 14th Nov)
Well done to our St Finbarr's team on their participation at the Todd Woodbridge Cup State Finals in Sydney yesterday. They played six different teams in doubles and mixed doubles, a total of 12 games on a hot and very windy day. While they didn't win the event, they were praised for being a wonderful team, who were well behaved and great sports by the on court supervisor.
A very big thank you to all of the parents who helped to stop nets from blowing off the court, putting your work on hold to bring your child and for giving them a wonderful memory.
Lisa Clark
Sports Coordinator
St Finbarr's $20 Boss Market Day
Fun for the Whole Family!
Bring your cash and support Stage 3 entrepreneurship for a good cause. All our profits will be donated to charity. With a variety of interesting products on sale, everyone can find something they love. Christmas is just around the corner so it could be a wonderful opportunity to find that perfect gift!
We will be selling:
sweet treats

smoothies and juices

jewellery

tote bags

slime

candles

and much, much more!
Items will vary in price: $1, $2, $5 and $10. Cash only please!
Stage 3 Performance Poetry Day
Stage 3 was fortunate enough to travel to Mullumbimby and participate in a 'Poetry Day' with Stage 3 students from St. John's Catholic Primary School. The students wrote some amazing poetry under the guidance of the poet Luka Lesson.

Luka Lesson is a poet, rapper and educator of Greek heritage born in Meanjin/Brisbane. His work combines the history of his family homeland, political issues and self-reflection. A former Australian Poetry Slam Champion (2011), Luka has featured at the pinnacle for slam poetry: the Nuyorican Poet's Cafe (NYC) multiple times, performed with the Queensland Symphony Orchestra and toured with respected UK rappers Akala & Lowkey.
Stage 3 Teachers
Luka Lesson workshop & some students poetry
Student Awards
2022 Finnies Golf Day
The 2022 Finnies Golf Day is fast approaching
Sunday November 27th - arrive at midday for a 12.30pm tee off!
Golfers of all abilities are welcome. Put together your team of 4 - it's an Ambrose event, so it'll be lots of fun, with heaps of prizes and raffle items to be won.
$50 per player, or $200 for your team of 4.
To book a golf cart send an SMS to 0415 242 524
Do you want to 'Sponsor A Hole' for $200, or donate a prize for the day?
Please contact Michael on 0415 242 524
Don't want to play? Come and join us for a drink and/or dinner from 5pm - we'll be selling raffle tickets with heaps of awesome prizes!
Please follow the link below to purchase your tickets.
Year 6 Graduation Fundraiser
Gold Coast Christmas Trees for Sale
Mark Cameron from Gold Coast Christmas Trees will be selling Christmas trees from the school carpark on the following Sundays:
11am-12noon
Sunday 27 November
Sunday 4 December
Sunday 11 December
Sunday 18 December