Term 3, Week 8 Newsletter 2022
Principal's Message
2023 Future Planning
We are still working hard this year, however, we are always reflecting at St Finbarr's. We continue to look for school improvement and refining the ways we do things. Thank you to those who completed the recent school survey for your honest feedback and suggestions. We will have the opportunity to analyse this data in the upcoming weeks.
An important change we will implement next year will be to revert to single year level classes. There are many benefits to this change which effectively negates the need to have combined or Stage classes. Therefore, there will be two classes for each year level in 2023 except for Year Five and Year Six which will have one class each. Teachers for all classes will be announced in Term Four. From recent communication with Byron Bay Council we have been informed that our Development Application for our six new classrooms and library is still awaiting approval. This DA has been put on hold due to prioritising those more affected by this year's floods. We are optimistic things will start to move shortly.
Classes for 2023 (12) Classes for 2024 (14)
Classes 2023
K
K
Yr 1
Yr 1
Yr 2
Yr 2
Yr 3
Yr 3
Yr 4
Yr 4
Yr 5
Yr 6
Minifins
We are looking forward to our Minifins commencing in Term Four. Mondays from 9am to 11am
Group One
(Surnames: Abal to Kenny)
Monday Week Two 17/10/22
Monday Week Three 24/10/22 Parent Information Session 9am
Monday Week Six 14/11/22
Monday Week Seven 21/10/22
Group Two
(Surnames: Larcombe to Zankovic)
Monday Week Four 31/10/22
Monday Week Five 7/11/22 Parent Information session 9am
Monday Week Six 14/11/22
Monday Week Seven 21/11/22
Softball Little Sluggers
Another after school activity will be offered in Term Four after the success of our current programs. Please see the information attached to the newsletter and contact the school office for interest in the Softball Little Sluggers Program. A day has not been finalised as yet, however, we have nominated Tuesday as our preferred day.
For Term Four After School bookings please contact
Fitness: Tory - info@youthacademy.com.au / 0412 221 389 (Mondays)
Spanish: Paola - paolarandazzo@clacademy.com.au / 0447 330 194 (Thursdays)
Drama: Sam - info@makebelievers.com.au / 0432 366 830 (Wednesdays)
Bush School: Rohan - brunsbushschool@gmail.com / 0407 898 374 (Day TBC)
Hapkido:Eli - byronbayahahapkido@gmail.com / 0404 489 781 (Tuesdays & Thursdays)
Softball: (please contact Buffy to express interest) (Day TBC)
Fathers Day
Thank you to everyone who made the occasion such a memorable one. Special thanks to Mrs Boggis who coordinated the photos on the day.
Stage Three Excursion
Wonderful feedback from our hard working and sleep-deprived teachers in Brisbane. Our students were beautifully behaved and loved their city experience. Well done everyone.
Uniform
A reminder that second-hand school uniforms are available at the local St Vincent de Paul store in Byron Bay. Please ask at the shop as not all are on display. The St Finbarr's uniform Facebook page is also a good place to buy/sell and donate.
Final Day for Term Three
The final day for Term Three will be Thursday 22nd September. School resumes on Tuesday 11th October.
Staff News
Congratulations to our staff members Pippa Reynolds, Kristy Lollback and Lisa Clark who have gained permanent teaching status after our recent recruitment process. We are so fortunate to have such a dedicated and professional staff here at St Finbarr's. Carolyn Wade and Donna Clark, who have taken leave from their positions at St Finbarr's, have both announced their intention to resign. Carolyn has relocated to Brisbane and is currently studying whilst Donna has successfully moved to a teaching position at Holy Family Skennar's Head. Carolyn visited us at school yesterday and loved catching up with friends. We wish Donna and Carolyn all the best for the future and we look forward to the opportunity to formally farewell them later in Term Four.
Thank you caring students
St Finbarr's has a wonderful reputation for social justice and our students supporting those in need. A big thank you to Oliver, Mia, Freya, Alice, Ivy and Maya who have recently organised school events to assist others. Any students wishing to organise a fundraiser should contact Mrs Piccoli to discuss their plan.
Yours in Partnership,
Tim Bleakley
Principal
Mission
First Holy Communion
A number of our students are well into their preparation to receive the Sacrament of First Holy Communion. Over the past two weekends the students have been acknowledged so beautifully at Mass. This past weekend the students participated in a Candle Ceremony. Each candidate brought forward a candle and positioned themselves around the Altar while Father David offered the Eucharistic Prayers. It was so beautiful to see the students so present in the heart of the Liturgy as Father David gathered the bread and the wine, the substance of our lives, joining them to Christ's perfect sacrifice, offering them to the Father.
This coming weekend at Mass the Holy Communion candidates will be acknowledged with a blessing and the following weekend the candidates will celebrate the Sacrament of First Holy Communion.
All are very welcome to attend this special event which will take place on the weekend of the 17th & 18th of September Saturday night, 6:00pm at St Finbarr's Church Byron Bay or Sunday morning, 9:30am at St Kevin's in Bangalow.
Stage One & Kindergarten Masses
Over the past two weeks both our Stage One and Kindergarten Students have celebrated Mass. The children were very involved in the preparation of the Masses with the themes of the Masses being a celebration and an authentic connection to the learning of the scriptures the students have been learning in their Religious Education units.
Students were involved in reading, singing, liturgical dance, the Gospel procession and miming the Gospel. Celebrating Mass is at the core of our faith and by having students actively participate, they not only become more familiar with the order and significance of various parts of the Mass but most importantly, they are able to develop a deeper understanding of their faith.
Ten : Ten
This coming Thursday the 8th of September, all students K-6 will enjoy the Ten:Ten Experience. Ten:Ten is a high-energy experience focused on enabling students to achieve the fullness of life. Inspired by the words of Jesus in the Gospel of John, "I came so that they may have life, life to the full" (John 10:10), this experience is an opportunity for students to celebrate life with their peers and hear of the relevance of the Gospel from a team of faithful youth ministers.
At the heart of the Ten:Ten experience is the proclamation of the Gospel through contemporary Christian music played by the Proclaim Lismore Wildfire Worship Team. The Ten:Ten experience is a dynamic, interactive and joyful opportunity to build connections with peers and is an opportunity for students to openly explore their curiosity about God and hear other people share of their experiences with God. Students can expect games, dancing, singing, activities, prayer, talks and small group discussions.

Year 6 Tweed Cluster Mass
Our Year 6 students have been invited to attend a Year 6 Tweed Cluster Mass at Sacred Heart Church Murwillumbah on Thursday the 15th of September. This will be a wonderful opportunity for our students to connect with other Year 6 students from our area and celebrate Mass as well as a music worshop which will be facilitated by our very own Lismore Wildfire Worship Team. A Compass Event will be sent out via email for parents who wish to register their Year 6 children for this event.
Pastoral Care & Wellbeing
IDENTIFYING EMOTIONS
Learning to identify and express feelings in a positive way helps kids develop the skills they need to manage them effectively. Here are some tips on how to encourage your child to express their feelings.
Understanding feelings in kids
Children deal with many of the same feelings adults do
Children experience complex feelings just like adults. They get frustrated, excited, nervous, sad, jealous, frightened, worried, angry and embarrassed. However, young children usually don't have the vocabulary to talk about how they are feeling. Instead they communicate their feelings in other ways.
Children can express their feelings through facial expressions, through their body, their behaviour and play. Sometimes they may act out their feelings in physical, inappropriate or problematic ways.
From the moment children are born, they start learning the emotional skills they need to identify, express and manage their feelings. They learn how to do this through their social interactions and relationships with important people in their lives such as parents, grandparents and carers.
Being a parent means you've got a really important role to play in helping your child understand their feelings and behaviours. Children need to be shown how to manage their feelings in positive and constructive ways.
https://sites.google.com/lism.catholic.edu.au/pastoralcareandwellbeing/parents/self-awareness/identifying-emotions
Yours in Partnership,
Mrs Sonya Piccoli
AP Mission & Additional Needs
Learning & Teaching
Mathematics at St Finbarr's
Student growth and achievement in Mathematics, is a goal at St Finbarr's this year, as part of our School Improvement Plan. Teachers are working together to analyse data, set focussed learning goals with the students, implement consistent practice across the school and learn together to improve student learning outcomes.
The teaching of Mathematics looks very different to when you or I went to school and the approach of the Lismore Diocese is an Inquiry Learning Model. We focus on building mathematic competence through warm ups, rich learning tasks and reflection. Whilst also supporting students to develop a growth mindset, determination and grit. Dialogue and communication throughout Mathematics is extremely important as it allows students time to share their thinking, listen to and learn from each other.
We regularly check in, track and monitor student achievement with a focus on Whole Number concepts. This allows for the identification of gaps and supports targeted teaching that occurs alongside whole class lessons for various students.
NAPLAN Reports
NAPLAN Reports have arrived at school and will be sent home this week. The National Assessment Program – Literacy and Numeracy (NAPLAN) is an annual assessment for students in Years 3, 5, 7 and 9.
It is a nationwide measure through which parents/carers, teachers, schools, education authorities, governments and the broader community can determine whether or not young Australians are developing the literacy and numeracy skills that provide the critical foundation for other learning and for their productive and rewarding participation in the community.
NAPLAN results allow parents/carers and educators to see how students are progressing in literacy and numeracy over time – individually, as part of their school community, and against national standards.
NAPLAN tests are one aspect of each school's assessment and reporting process and do not replace the extensive, ongoing assessments made by teachers about each student's performance. Each teacher will have the best insight into their students' educational progress.
The assessments are undertaken nationwide, every year. From 2023, the test window is moving from May to March.
NAPLAN is made up of tests in the 4 areas (or 'domains') of:
reading

writing

conventions of language (spelling, grammar and punctuation)

numeracy.
COMPASS
As you are aware, we use the student management system COMPASS across the Lismore Diocese. This is our main form of communication. Newsletters, notes, announcements, permission for excursions, payments etc are all sent out via this platform.
We have noticed that a number of you are yet to login and activate your compass portal. It is vital that you do this if you wish to stay up to date with all school communication.
There is also an App that you can download to make life easier. We send all communication via EMAIL & NOTIFICATION so if you have the app you will get notified on your phone as well as via email.

If you have misplacced your log in information please contact the office. We do not want anyone to be left behind or to miss out on important information and notifications.
Seesaw will continue to be used as a 1:1 communication tool and sharing of student work BUT COMPASS is our whole school management tool therefore it is essential that you are using it.

You do not require multiple logins per child, simply logging in and downloading the app will give you access to your child/ren (if you have more than one at our school).
We are offering three COMPASS training sessions on Wednesday 21st of September: 9am, 3:30pm and 5:30pm.
We look forward to seeing you there and we thank you for your understanding and cooperation.
Vocabulary Parade - Book Week
What a wonderful morning we had bringing WORDS to life at our Vocabulary Parade. We were so impressed with the creativity and the effort from every student (and teacher) and it was such a beautiful community event with parents, carers and friends then joining us in the classroom for shared literacy experiences.
Stage 3 Brisbane Excursion
We left off on the bus at 6:30 am on Thursday the 1 of September. Once we were all checked off the roll we drove on the bus to Coomera which took us about 1 and a half hours with a little bit of traffic coming into the Gold Coast. From Coomera we drove for about another hour. Our first stop was New Farm park. We got off the bus and had a quick bite to eat and play on the playground. After we finished playing we had to get back onto the bus and drive to the ferry terminal. The bus driver dropped us off at the ferry terminal, we walked up and realised that the ferries were not working because they were still repairing from the floods, so we got back on the bus and the bus driver drove us to South Bank.
After he dropped us off at South Bank, we had lunch and played in another park. After lunch we walked along the waterfront to the Art Gallery. The Art Gallery had lots of cool pieces, my favourite was probably the mirror room with the receipts that had a message that you had to unscramble. Then we made our way back outside to have a snack. When we finished eating, we walked in a group to the museum and had a look around their army exhibit. We then made our way to the Spark Lab which was my favorite part of the day. It had a room with colour changing lights and lots of objects.
They also had a room where you had to hit the pipes with things to make a sound, you could play lots of different songs but the most popular was Mary had a little lamb. I think that the most popular object was the big energy ball where if you had your hand on it and also touched someone else if would shock them. The best part of the Spark Lab was when Mrs Piccoli and Mrs Magnus versed each other in the pulley system race. After the Spark Lab we headed back on the bus and to the YHA where we were staying.
When we got there we were allocated a room with some friends to stay in for the night. After that we chilled for a bit and then it was dinner time. For dinner we were split into groups of 1 and 2. Trivia with the whole camp group was after dinner. We did trivia about the bus ride and music trivia. In the morning we were up bright and early to have breakfast. After breakfast we hopped back onto the bus and headed to our meeting spot for the amazing race. We were in our groups and were given a bandana. We had to run around Brisbane City locating landmarks and performing crazy tasks. In the end it was Mrs Magnus' group who won. Then we were back on the bus again to head back home. We stopped back at Coomera but this time we got Maccas. Mrs Piccoli and Mrs Magnus bought all the kids without money a frozen coke. Some people were allowed to get a doughnut but people with their own money could buy whatever they wanted but within reason. Overall I think that our camp trip was pretty amazing and everyone had fun.
Marley Quinlan
The best part of the excursion was the Break out Brisbane challenge and my second favourite thing was the Spark Lab and the Anzac part of the museum .The best of Break out Brisbane was when we had to go around Brisbane looking for clues. Spark Lab was fun because we got to do lots of experiments then we went to the Anzac section where we got to see the last tank to serve in World War One it was REALLY fun I hope to do it again next year.
Harry Simpson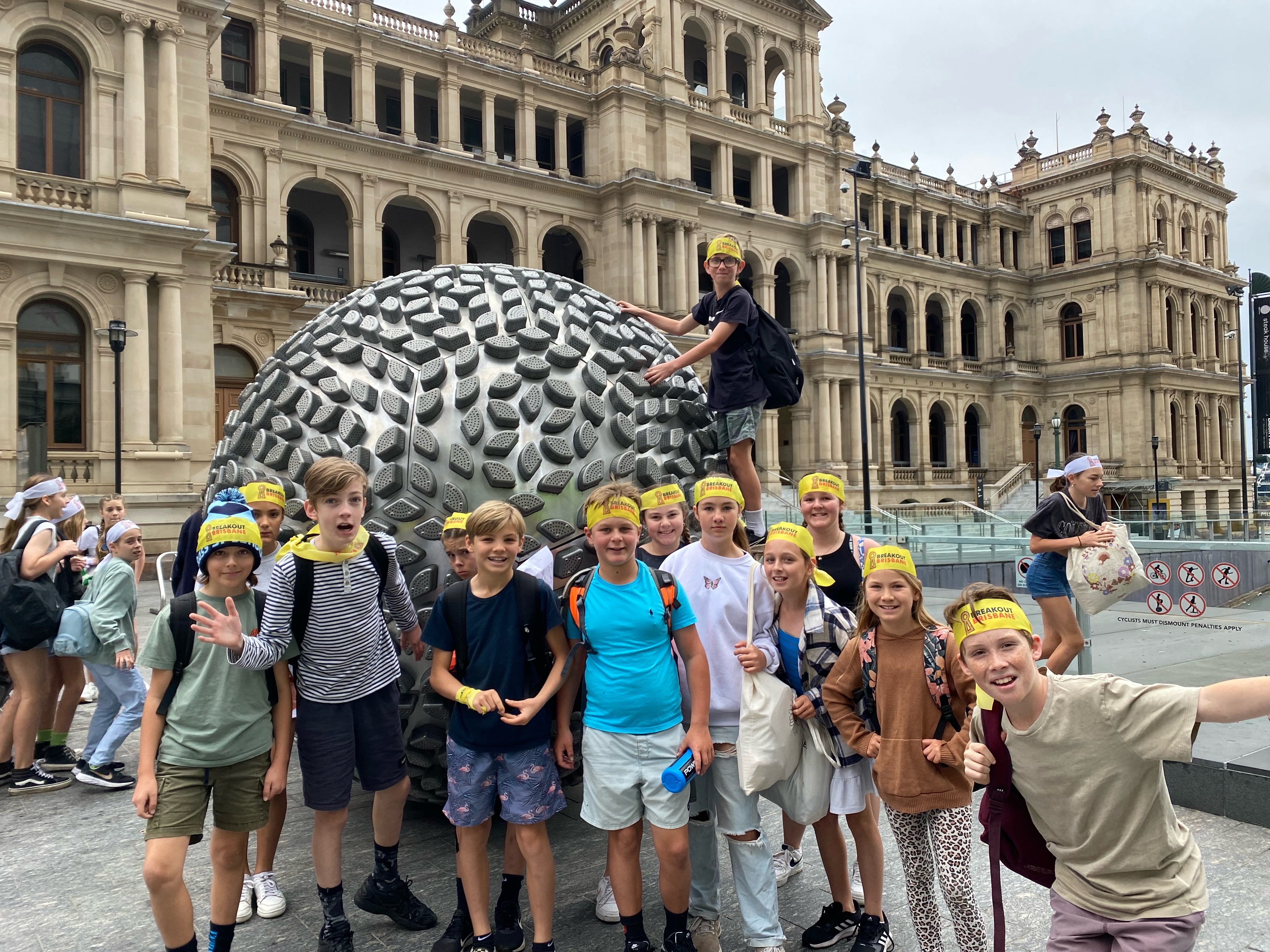 Prev
Showing images
1 - 8
of 12
Next
Yours in Partnership,
Lauren Magnus
Assistant Principal - Learning & Teaching
Sports News
Polding Athletics Carnival
Well done to our St Finbarr's Athletics students on their effort and sportsmanship displayed at the Diocesan Athletics Carnival.
Congratulations to the following students who will progress to the Polding Athletics Carnival held in Newcastle, this Friday.
Roley: 100m, 200m
Kya: Long Jump, Shot Put
Kaia: 100m
Nash: High Jump
Will: 800m, 1500m
Polding Rugby Union
Congratulations to Adam Price from St Finbarr's Primary, Byron Bay who was selected in the NSW team following the championships. The Polding team won the championships this year.
Lisa Clark
Sports Coordinator
St Finbarr's CAPA Showcase
St Finbarr's Golf Day
The date for the Golf Day is fast approaching - Sunday October 23rd
We had a great day last year, and this year will be bigger and better. The day is open to all men, women, and mixed teams of 4. There will be a heap of prizes and giveaways.
Do you want to help organise the day?
Can you, or your business donate a prize or raffle item?
Would you like to sponsor a hole for $200?
Please contact Michael on 0415 242 524
Student Awards
Byron Youth Academy Holiday Program
Program Detail:
With foundations in exercise physiology and coaching, our program is a multisport activity program aimed at enhancing the development of the whole child. Developed and delivered by an exercise physiologist, health coach and local father of three, the program focuses on kids having FUN and building resilience through activities, whether this is via sport, active play, competitions, races, games, creativity or learning the art of relaxation through mindfulness. No two days are the same, and we aim to provide ample opportunity for children to be physically active, learn new skills, create new social connections, challenge their thinking, demonstrate leadership, and allow activity and enhanced mind body connection to become a pathway for the fulfillment of personal potential.
School Holiday Program
Tuesday Sept 27th and Thursday Sept 29th, bookings through the website.
www.youthacademy.com.au
Parent workshop supporting children through change, loss and uncertainty
Mobile Lice Treatment Service
A Mobile Lice Treatment business operated by a St Finbarr's Parent, is available in Byron Bay. It is called Hair Angels.
Hair Angels will come to your home and treat the whole family with non toxic, gentle manual lice and egg removal. It has been extremely well received here within the community.
Hair Angels can be found on facebook
https://www.facebook.com/hairangelslicetreatment
or on the contact number below.

Trinity Catholic College Campus Tour
Alstonville Junior Waterpolo
The season kicks off with two "Come and Try" nights on Friday 16th and Friday 23rd September from 5.15pm at Alstonville Pool. We would love for any interested players to come and try this great game out for themselves.
Games are played every Friday Night commencing at 6:00 at the Alstonville Aquatic Centre located at 15 Alston Avenue, Alstonville.
Training is run on Wednesday for both deep end and shallow end Junior players.
Training commences at 6:15pm and finishes at 7:15pm.
Deep End Junior Players consist of C Grade, B Grade and A Grade (typically 12-21 year olds).
Shallow End Juniors are divided into beginner and advanced groups (typically 9-12 year olds).
And Mini Polo in the small pool is for ages from 5-9 year olds (subject to swim test).
For more information visit the website below.
Byron Shire Council After School & Vacation Care Program