Term 2, Week 2 Newsletter 2022
Princial Messsage
Anzac Day
Thank you to those families who supported the school at the local ANZAC Day march. It's always special to come together as a school community to support those who have served our country in war time. Special thanks to Honey, Caitlyn and Aurora for their leadership and involvement on the day.

Mothers Day
What a wonderful celebration and coming together as a community. I'd Like to thank the wonderful volunteers that worked hard to make this celebration possible, we could not have done it without you.
Happy Mother's Day to all the Mum's, Grandmothers, Aunties and Mother figures in our lifes.
Mother's Day Breakfast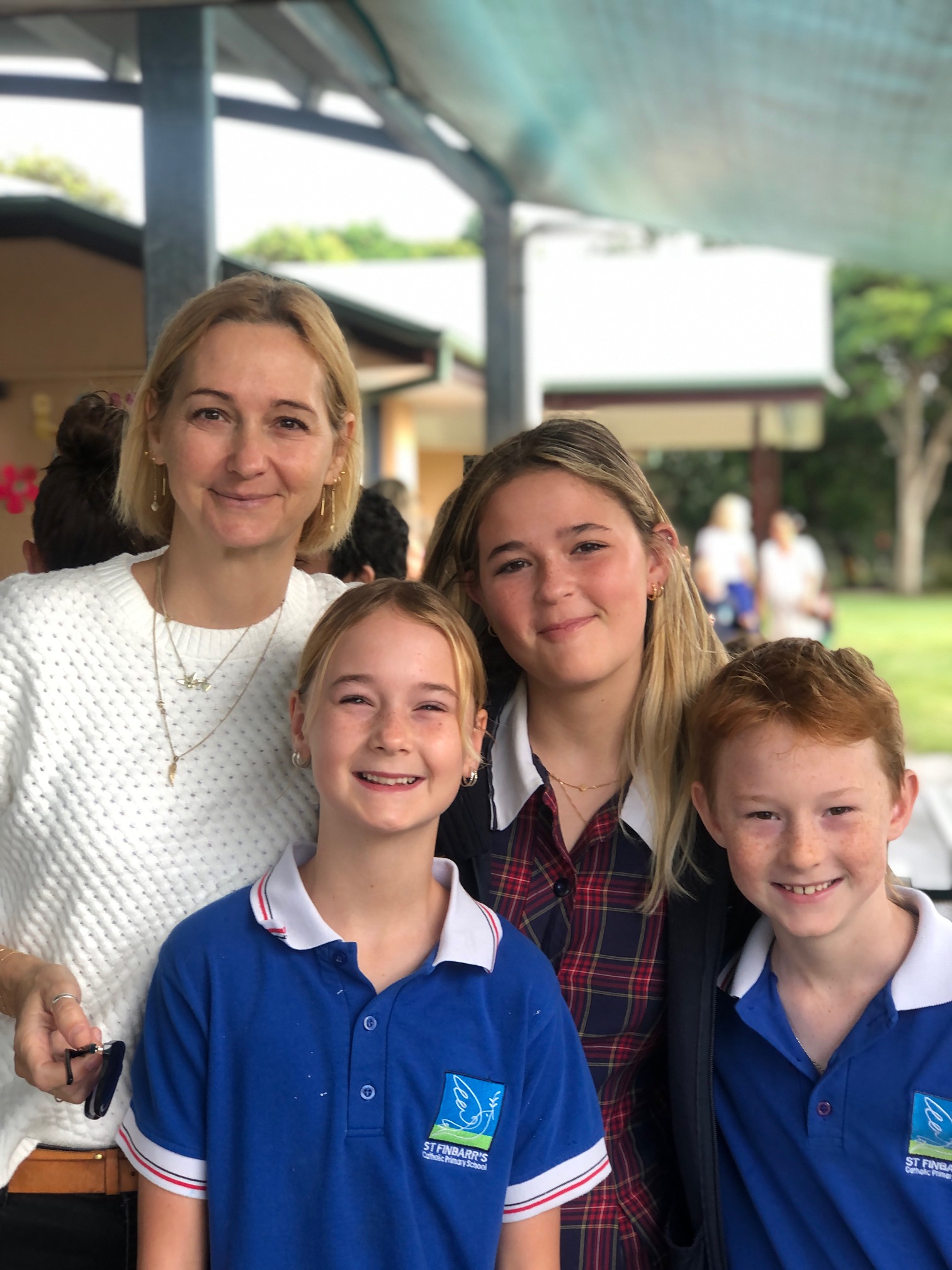 Prev
Showing images
1 - 8
of 11
Next
Staffing
Staff turnover is a fact of life in all organisations. It can often be even more common in schools with staff looking to develop their skill sets, gain experience or seek leadership positions. Changes at St Finbarr's this term are: Mr Andrew Lollback returning to his work with the Department of Education, Mrs Rebecca Wadsworth finishing her work as student support and Justin Bleakley moving on to complete his practicum experience at Holy Family, Skennars Head. We welcome Sienna Jones who has joined our team this term and will be working in student support while she completes her teaching degree. Welcome Sienna and good luck Andrew, Justin and Rebecca.
Rugby League
Well done to our Stage Two and Three boys who have been training each Thursday at lunchtime. The boys have been mentored by Mr Lollback and Justin Bleakley and are developing and honing their skills with each session. We are currently looking to organise a lunchtime game against one of our local schools. In Term Three boys and girls will have the opportunity to develop their AFL skills with lunchtime sessions.
School Photos
This Thursday is school photo day. Please ensure all order forms are returned to school and that all students are in full school uniform.
Safe Bus Travel
Families have an important part to play in keeping children safe around roads.
Never drop off or meet your child on the opposite side of the road to the bus stop or call them across the road. Always drop them off or meet them on the same side of the road as the bus stop.

Remind your children to always wait until the bus has gone before choosing a safe place to cross the road.
For more information on safe bus travel please click on the link below.
Meet The Teacher - Mrs Kristy Lollback
Kind Regards,
Tim Bleakley
Principal
Mission
Welcome back to Term 2. We hope everyone was able to rest and rejuvenate over the holidays and celebrate a beautiful Easter with your families and loved ones.
Last Thursday night the parent meeting for students who will this term be participating in the Sacrament of Confirmation was held. This is such a special time in our students' faith life where they prepare to receive the Gifts of the Holy Spirit.
This coming weekend Saturday the 6th and Sunday the 7th of May, each of the candidates will be participating in a commitment ceremony during Mass. Everyone is warmly invited to join the candidates and their families in prayerful support for the in preparation of this major step in their faith lives.
Please keep the students and their families in your prayers.
Weekend Mass times:
Saturday night at St Finbarr's Church Byron Bay at 6pm
Sunday morning at St Kevin's in Bangalow at 9:30am
PRAYER FOR CONFIRMATION CANDIDATES
Lord,
You send out Your Spirit to touch the hearts of all people, so that they may believe in You and in Jesus whom You sent. Look kindly on all candidates for Confirmation as they listen to Your voice.
Open their hearts to Your Spirit and bring to fulfil the good work that You have begun in them.
As we prepare these children for Confirmation, make each of us an instrument of Your love. Teach us to appreciate what is holy in others, and to be patient with what we do not understand.
Deepen our faith in the Gospel and help us to pass it on by our example. We pray that You will continue to guide us and sustain us.
Through Christ our Lord,
Amen.
Mother's Day Prayer
Loving God,
you are always with us,
holding us in your loving embrace.
We place our mothers in your tender care and
ask you to help us to support them when they are weary,
to show them compassion and kindness when they need it,
and to show them constant love and gratitude.
We ask this in Jesus' name.
Mrs Sonya Piccoli-Assistant Principal Mission and Additional Needs
Years 1 & 2 Science STEM Day
As part of their Science unit this term, students in Kindy, Year 1 and Year 2 are learning about materials. To immerse them in this topic, the Early Years teachers worked together to create an engaging, hands-on day full of STEM and inquiry activities. Students worked in mixed-aged groups creating structures with natural materials, exploring the different properties of materials and participating in an 'Egg Drop" STEM task.
We were blown away by the collaboration, persistence, curiosity and participation shown by ALL students. A fun day was had by all!
The Early Years Team
STEM Science Day
Prev
Showing images
1 - 8
of 12
Next
Parent Connect

Dear Parents and Carers of our potential Year 7 students in 2023,
You may be aware that our processes for Yr 7 enrolment for 2023 have had to be modified due to recent floods and ongoing Covid cautiousness. In previous years, I have had the opportunity to visit schools with enrolment packs and speak to Year 6 students about enrolment into Year 7 the following year. This was not possible this year for the reasons noted above, however we are determined to be able to offer as many places to our Catholic Diocesan Schools as possible. All enrolment details can be found on our website: https://xavierlism.catholic.edu.au/Year7
This year due to the flood impacting our timelines, we are also not in a position to interview all students seeking enrolment. As such to ensure we can get back to original timelines, we will only interview non-Catholic Feeder school applicants. This will in no way hinder your child's application to Xavier Catholic College, and they will continue to be rank-order listed for offer in the usual way.
To alleviate your concerns please note we have also extended the deadline for Catholic Feeder school families for submission of enrolment out to May 2nd. You will note the deadline on the website is Tuesday 19 April 2022, but this will only be the case for non-Catholic feeder school applicants.
Please be aware we are doing all we can to support our community with a strong focus on our Catholic school aspirants.

Mr Kevin Lewis
College Principal Xavier Catholic College, Ballina