Mission
Whole School Mass
There was much to be grateful for last Friday as we celebrated our Catholic School- St Finbarr's. The Whole School attended what can only be described as a Mass full of joy. Our students participated beautifully with the singing lifting the roof.
Father Jim's homily was one to remember with him introducing the students to the Churkendoose, a beautiful story of appreciating difference.
The children continued their celebrations with open classrooms and a walk to the beach. All students participated in sandcastle building and/or beach soccer and beach cricket, with everyone enjoying a lemonade icy pole when we arrived back at school.
It was so wonderful to celebrate as a Parish community our Catholic School and acknowledge how incredibly blessed we are.
St Finbarr's Feast Day
The 25th of September marks the Feast Day of St Finbarr which this year falls in the first week our school holidays.
Did you know…..
Saint Finbarr was a remarkable person who lived many centuries ago in Ireland.

He was a devout Christian, who wanted to share the message of love and goodness with everyone.

Saint Finbarr decided to create a special place called a monastery in a town called Cork. This was a peaceful place where people could learn about their faith and how to live good and kind lives.

His teachings and leadership were so inspiring that he eventually became the very first bishop of Cork.

People admired Saint Finbarr for his kindness and wisdom and he was made a saint after he passed away.
Yours in Partnership,
Sonya Piccoli
Assistant Principal - Mission

Student Awards
Learning & Teaching
Teaching your kids Social Media / Tech Smarts
For most parents these days, there's no avoiding social media. You probably have it yourself, as do all your friends, and if you're among the vast majority of parents in Australia — your kids will have it too.
According to the ACMA, 4 years ago only 45 per cent of 8-11 year olds were using social media….That proportion has now risen to at least 60 per cent, with many of the platforms in question being age restricted (generally for users aged 13+).
So while trying to eliminate social media from your family's life would be fighting an increasingly steep up-hill battle, there are some easy, preventative ways to help keep your children safe on these platforms. The key is education and awareness.
The first step is educating yourself, then passing this knowledge onto your kids, and giving them the Social Media Smarts they need to navigate these platforms.

Understanding the Dangers
Privacy: Online predators still pose a great risk to children on social media. It is important that you familiarise yourself with all the privacy settings in place to help protect your children. Especially for young kids, it's important that they have a private profile, limit the amount of personal information they put online (especially addresses and phone numbers), and minimise friend requests from people they don't know. Privacy settings will vary from platform to platform, so it's best to research each program individually.
Inappropriate content:

Young girls especially are facing increasing pressure to engage in the exchange of nude photographs, otherwise known as 'sexting'.

Dr. Greg Carr

has seen patients as young as 10 years old suffering from severe anxiety as a result of exchanging naked photos via social media platforms.

Online bullying:

Cyber safety expert Susan McLean says she has seen 'hideous' cyber bullying occur from primary school aged students. This bullying can come in many different forms, such as unapproved photo sharing, harassment, hacking, name calling, exclusion and public humiliation. She's even seen kids 'set up accounts in other kids' names and use that as a tool to bully and harass other people.' It's crucial that you know the different ways a child can be victimised by cyber bullying, so you know what you — and your child — should look out for.

Addiction: If your child loses interest in other activities, becomes agitated or anxious when they can't access social media, or is constantly distracted by it, they may have a technology or social media addiction. There's easy ways to prevent this from happening, though, and it's important to know that simply using social media a lot doesn't suggest an addiction. It's when their use of social media interferes and disrupts their ability to function that it may be a problem. Being aware of the signs and symptoms of technology addiction, and what you can do to avoid it is integral. So now you've educated yourself on the dangers of social media, it's time to focus on the kids.



What your child needs to understand about Social Media
The permanence of posting:

It can be a hard concept for kids to grasp – that their future selves may not want to publicise the same personal information that they do now. Make it simple for them, and if they can't conceive of their future selves, go to the past… Would a 13 year old want all their friends to know about their barbie doll collection? Emphasise to your kids the inescapable permanence of online posting, and that what they post now could hurt them in the future. Suggesting to them that they never post something on an impulse and wait a few hours (or days) before doing it can be a good start.

They get to create the boundaries of use:

Many children begin group messaging and message apps before social media. Helping your children develop positive habits around when to share, what to share and how to communicate within these groups is a crucial skill. Let your children know that they are able to leave group chats just as they are able to 'walk away' from a situation in real life that they aren't interested in, engaged in or happy with.

Understanding the different forms of bullying:

Cyber bullying manifests itself in many different ways, and some are less obvious than others. Make sure you and your kids know what to look out for. For example, a more subtle form of cyber bullying may be other kids privately sharing a photo that someone else has posted, or creating their own post imitating it. A key concept is that if your child feels uncomfortable about something they've seen or heard about that's happened online, it's likely that it's a problem. And if someone is upset about something that's happened online, it absolutely needs to be addressed.

Having empathy for others:

It's one thing to protect your kids from being the victims of bullying, but it's equally important to make sure they aren't perpetrating it. Teaching your kids about empathy and encouraging them to see how their social media behaviour may affect others will play a huge role in preventing them from engaging in online bullying behaviour.

The 'unreality' of social media: Kids need to understand that while social media profiles can be a reflection of someone's identity, they're a very carefully curated one. In particular, photos can be harmful to young girls and set up unrealistic standards of beauty. 'Education around the skewed perception of social media is so important', says staff psychologist Dani Kaufman. 'Obviously people don't put up unattractive photos up of themselves, so naturally without even trying there's pictures of beautiful people everywhere.' 'That can really affect your self-esteem or sense of self, so having awareness that it's skewed and that it's not reality, and having that understanding that it can affect the way that you feel and what you see without even knowing it is crucial.' 'You can't stop your kids from being exposed to those pictures, but acknowledging that just because that's what we see online is not what's in the real world is a vital lesson to be learnt.' So now that you know what you need to know, and what your kids need to know….

Here's what you can do to make your kids Social Media Smart
Talk to them first:

'Parents really need to be involved, in explaining things to their kids about the permanence of their posts and the impact of their words', It's not enough to rely on the school system to teach them, and unfortunately, social media safety is not being adequately addressed. Take the time to sit down with them and discuss all the issues addressed above in age-appropriate terms.

Lead by example:

Parents are the most influential people in their children's lives. If you do things on social media that you wouldn't want your kids to do – think again. This is especially pertinent when it comes to how much time you spend on social media and what you chose to share on it.

Limit their usage:

Set clear boundaries for where and when your kids can access social media. Dinner time could be a 'screen-free' zone, as well as trips in the car or other opportunities where they should be talking to you instead of someone else through a digital device. Implementing restrictions early on will help your child to develop healthy habits, and avoid becoming too consumed (or even addicted) to social media. Social media can be scary for parents and their kids — but by helping them to be smart with their choices, you can also help them to stay safe.
Book Week Parade

A reminder that we have our Book week parade at 9:10am on Thursday in the undercover area. All students are invited to dress up as their favourite character or a character from a book that inspires them.
Finals Fever
A reminder we have our Finals Fever $12 lunch special on Friday. Includes choice of Hot Dog or Sushi, Red rock chips,Quelch Icypole + a raffle ticket to win a ball. Orders to be placed via Compass Canteen before THURS 11am. All proceeds go towards our Finnies Fun Run Fundraiser.
ZING Activ - Skipping
What a wonderful showcase our classes put on, on Monday demonstrating all the skills they have learned and been working on throughout the term. Skipping has been a hit since week 1 with students opting to practice their skills before school, at recess and lunchtime. Thanks to all the parents, carers and friends who joined us for this celebration of learning. Next term ZING are back and the focus will be GYMNASTICS.
Yours in Partnership,
Lauren Magnus
Assistant Principal - Learning and Teaching
Parent Connect
Sports News
50m Surfsafe Trial (2oth Oct-Term 4)
St Finbarr's Stage 2 & 3 students will be involved in the Surf Safe program for their weekly sport beginning in Term 4, Week 3.
Due to safety regulations of children participating in water activities, every child in Stage 2 & 3 will have to partake in a swimming trial for eligibility to participate in the Surf Safe program. Each child will be required to swim 50m competently to be able to join in the Surf Safe Program. Competency would show adequate stroke and stamina to complete 50m freestyle without needing to stop, hold the edge or touch the bottom.
This is just a friendly reminder that students may want or need to get back into the pool to prepare for this trial, which will be held in Week 2-Term 4, after the holidays.
Please be aware if your child can not satisfy the requirement, they will not be able to participate in the Surf Safe program this year and will participate in the Intensive Swimming Program instead (Weeks 8 & 9).
If your child is absent from our Swimming trial, they are required to have a swimming instructor/coach witness their swimming ability of 50 metres, document & sign.
Any parent who would prefer their child to participate in the Intensive Swimming program instead are required to email Mrs Clark before the 50m Swim trial.
Lisa Clark
Sports Coordinator
Principal's Message
Thank you Fr Jim
With the upcoming school holidays it is with sadness that we say farewell to Fr Jim Carty who has been filling in this term. The school community is extremely grateful for the support, care and kindness from Fr Jim during his stay. His humility, experience and wisdom has had such a positive impact on school culture in his short stay. We wish Fr Jim the very best as he returns to Sydney next term.
Class Parents Canteen Days
Fun Run Fundraiser Term 4
As suggested at our Fun Run meeting last Wednesday, the canteen can be utilized for classes/ year levels to organise a special canteen menu where the profits go towards that year group for their Fun Run totals. The canteen special could be: hamburger days / sushi / ice blocks / sausage sizzle/ pizza days/ hot dogs etc. Students can be involved in the planning however it will require parent supervision. Orders will go through the Compass App. Please contact Tim, Lauren or Sonya or your Class Parent rep who will lock in days on the calendar. Thank you for your support.
Rugby Sevens
We have been invited to field teams in the Year 3/4 and Year 5/6 mixed Rugby Sevens Gala day to be held at Byron Bay on Thursday 12th October. Mr Bermingham will be training students who have expressed interest this week at lunchtime. Please contact the office if you would like your child to be involved as places are limited.
Cake Sale
There will be a cake sale this Thursday to raise money for our fun run, there will be yummy food to purchase and also Snow Cones available.
Year Five Podcasts
Year Five has been productive creating Podcasts this term. To listen to some of these entertaining and informative podcasts click on the link below.
Term 3 School fees
Can I ask that all outstanding school fees be finalised by the end of this week. Term 4 fees will be issued at the beginning of term 4. Thank you to all those families who pay their school fees on time, it is greatly appreciated. If you need assistance with your fees, or would like to set up a payment plan, please make contact with Alison in the front office.
Yours in Partnership,

Tim Bleakley - Principal
Parent Connect
Student Awards
Finnies Fun Run - Donation Site is LIVE
Our Finnies Fun Run Donations Site is LIVE.
All students must create an individual profile and connect themselves to a team. Please DO NOT create your own teams. Please ensure you follow the steps below when creating individual profiles.
Click on Create a Team (top right hand side of screen)
Click on Fundraise as an Individual
Click on Join a Team
Click Yes
Type in Team Name (Kindergarten, Year 1, Year 2, Year 3, Year 4, Year 5 & 6)
Click on Team
Click Join
Enter Details
Configure Profile
Set individual Fundraising goal
Make your donation
Please DO NOT create a team - these have been created by the school.
Principal's Message
Congratulations to our First Communion children who received the sacrament of Eucharist last Saturday evening. It was a beautiful school / parish celebration which will remain in the hearts and minds of all involved for a long time.
Year 6 had a fantastic trip to the Sunshine Coast last week where they experienced so many fun activities. Highlights included rock wall climbing, canoeing, caving and more. Special thanks to Mrs Piccoli, Mrs Magnus, Mr Keane, Miss O'Brien and Mrs Nulley for taking such care of the students.
Year Three recently went to Currumbin Wildlife Sanctuary and students and parents came home raving about the fun and learning from the day. Thanks Year Four for their Bake Sale on Friday where they have begun raising money for the Fun Run in October. Students are organising another Bake Sale this Friday.
The Father's Day breakfast was such a great morning last week and a big thank you to all those who were able to attend. Special thanks to our cooks and servers and those who provided treats on the day. Thanks Mrs Boggis for her patience and skill in taking the special photos on the day. It was wonderful to have Fr Jim join us on the day and parents and students enjoyed his positive interaction, friendliness and welcome to all.
Term 3 School Fees
Term 3 fees are now overdue for payment, please ensure that your school fee account has be finalised. Anyone needing to discuss payment options, please contact Alison Mason in the front office.
Here are some pictures of our year 6 students at the Tweed Catholic Schools Mass, year 4 students having lunch with Mr Bleakley and Charlotte and Hannah at their fundraising stall.
Have a great week.
Yours in Partnership,
Tim Bleakley - Principal
Learning & Teaching
Year 6 Sunshine Coast Excursion
Camp, despite what many adults think, is always a highlight for Mrs Piccoli and I. We were blessed to be on camp this year with Yr 6, Mrs Nulley, Mr Keane and Miss O'Brien. Watching the students step outside their comfort zones, conquer fears with sheer determination and achieve goals they set for themselves with persistence, was extremelty rewarding. It's always great to see the kids connect as a cohort and create memorable moments with their peers as their primary school years come to an end.
Camp Recount by Hamish K
Last week, Year 6 went on school camp in the Sunshine Coast for 3 days, from Wednesday the 30th to Friday the 1st.
First, we stopped at Australia Zoo. Some of the highlights there were the crocodile show, the kangaroos and the meerkats. We had lunch while watching the crocodile show before being able to explore the zoo and all the wonderful exhibits it has to offer. After the zoo, we continued on to camp. That evening at camp, we were able to do rock climbing, and that was a major success! Everyone enjoyed rock climbing immensely, and a few of the teachers even had a go! The next day, we enjoyed a double session of kayaking in the morning, before caving and archery in the afternoon. Then, just before bed we competed in the camp Mini Olympics. Boy, did everyone sleep well that night! In the morning, we had the opportunity to conquer the camp Aerial Park. Some students (and teachers) tested their skills on Level 1, while others conquered their fear and ventured all the way up to the top level. Sadly, that was our last activity at camp, but the fun wasn't over just yet! On the bus ride home we stopped off at McDonalds and enjoyed a burger, chips and a drink.
All in all, Year 6 camp was a great experience that gave everyone the opportunity to connect with each other and challenge ourselves. Everyone learnt a lot, and it really was a memorable event in our St Finbarr's journey.

Learning Collaborative - Walks & Talks

Last week a team of our teachers attended a Learning Walk and Talk at St James Banora Point. This was a part of our continuius work within the Lismore Diocese Learning Collaborative Partnership. Dr Lyn Sharratt provided coaching and professional learning input throughout the day and the team found it to be extremely beneficial and inpiring.
The visit to St James in Banora was super inspiring. We visited a range of classrooms and in each, students were engaged in their learning and there was a purposeful chatter amongst the students as they discussed their own learning. The walls were alive with scaffolding for learning; prompts for students to rely on for support. From the visit, I'm excited to implement a few strategies into my classroom! Abbi Powell

"I felt inspired after visiting St James. The students across the school showed great ownership in their learning and their classroom spaces. It was impressive to see the impact of anchor charts and learning intentions and to hear from students how they use the classroom to support their learning as well as explain what they were learning and why. Moving forward I'm excited to continue to implement and utilise the classroom as a third teacher. Ensuring my students know how to use the co-constructed anchor charts and success criteria to provide them with feedback on their learning." Shelley Clark

Yours in Partnership,
Lauren Magnus
Assistant Principal - Learning & Teaching
Mission
First Holy Communion
On Saturday night a number of our students along with some other children who are also a part of the Holy Spirit Parish celebrated the sacrament of First Holy Communion. The Mass was beautifully presided by Father Jim Carty with each of the students who were celebrating their first Holy Communion actively participating in their very special Mass by either reading, or as a part of the offertory and Gospel processions.
Sacraments are such special events in our Parish and there are a number of parishioners who help to prepare for this special occasion behind the scenes.
We would like to thank Kathryn Head and Pat Higgins who always take the time to prepare beautiful certificates for each of the candidates. Ian and Ret Leggo who presented beautiful slides for the Mass which included images of the last supper to remind us all of the significance of this sacrament and of course Father Jim who was so present throughout the children's preparation, ensuring the Mass was a very special occasion even giving each student a small gift at the end of the Mass to mark the occasion.
Catholic Schools Week -Whole School Mass
On Friday the 15th of September, St Finbarr's will be celebrating a Whole School Mass to acknowledge Catholic Schools Week.
All Finnie's families and friends are warmly invited to this special Mass then join us back at school for open classrooms and morning tea where a coffee van will be available. Combi will also be working out of our school canteen selling coffee with number of options to eat for Morning Tea.
After morning tea, all students will then walk to the beach with their classes to participate in a number of fun activities on the beach.
Father's Day Prayer
On Monday morning, Year 4 Wategos led a Father's day prayer service at our assembly. This was a beautiful prayer service which focussed on all the important male role models our children have in their lives, also remembering those who are no longer with us.
The prayer service concluded with a beautiful prayer:
Generous God,
you are like a loving father to us.
We ask you to bless these men who reflect something of your fatherly love to us.
Keep them safe each and every day and hold them in your loving embrace.
Give them strong and loving hearts, bless the work they do and surround them with love and peace.
We ask this in Jesus' name.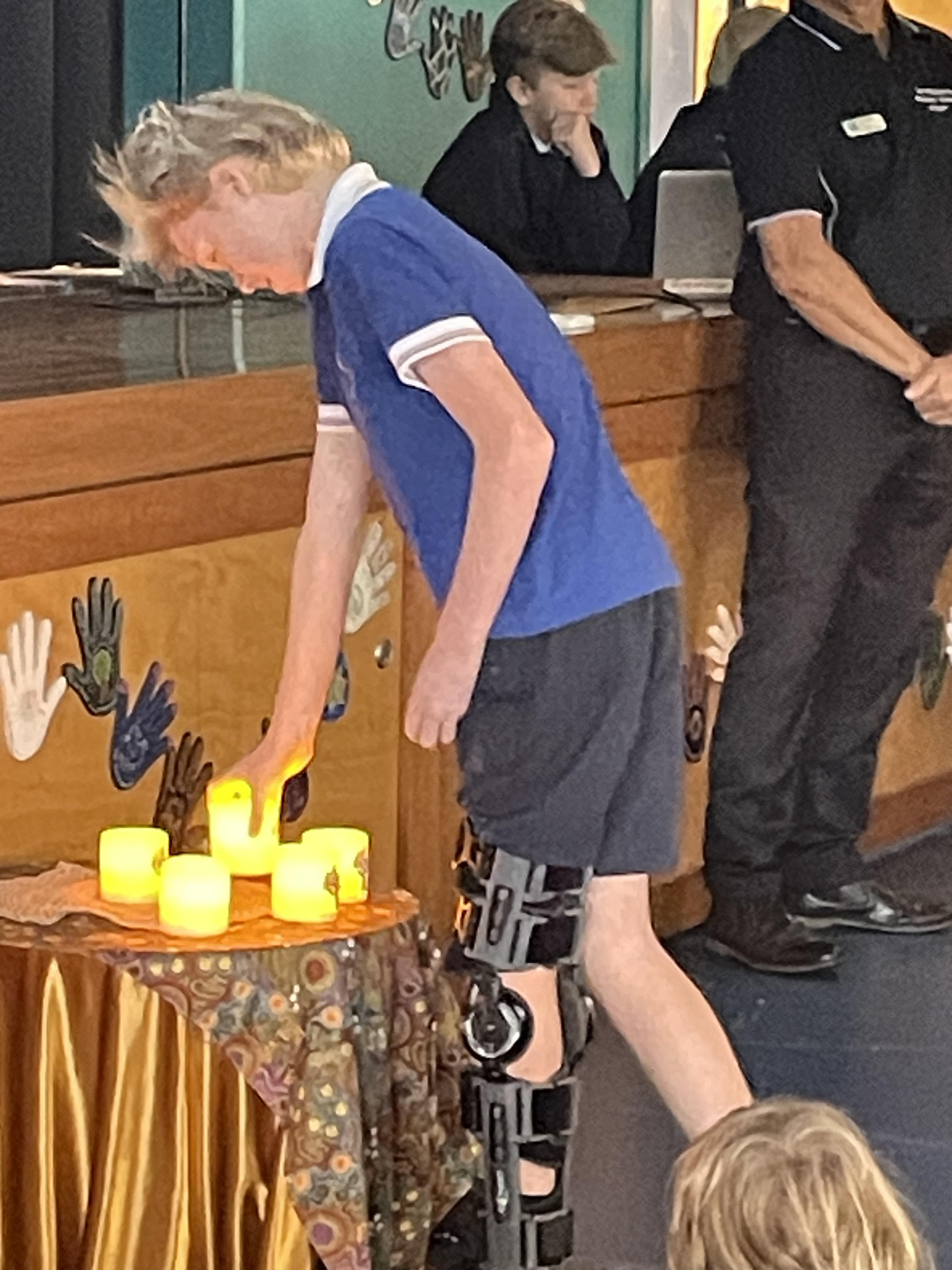 Yours In Partnership,
Mrs Sonya Piccoli
Assistant Principal -Mission and Additional Needs
Learning & Teaching
Supporting our Students to achieve the Fullness of Life
At St Finbarr's we aim to provide a positive environment in which each child is respected and his/her right to learn is encouraged and protected. As part of our recently implemented Behaviour Management Plan to foster a positive culture of loving, learning and growing we are introducing a Merit system (in addition to our fortnighly awards at assemblies).
Our expectation is for our students to live our Vision of Loving like Jesus, Growing as Friends and Learning for Life. When students are witnessed demonstrating our expected behaviours they may recieve a 'Merit' - and this will be visible on your child/ren's Compass dashboard (see below for an example).
We are really excited to be able to promote positive behaviours, acknoweldge our students when they are living our vision and foster a positive culture of learning.
Father's Day Breakfast

We are calling on volunteers to help our Father's Day Breakfast next Tuesday 29th August. If you're able to help please email buffy.gall@lism.catholic.edu.au
Morning set up begins from 6:45am with the breakfast being served from 7:30.
Yours in Partnership,
Lauren Magnus
Assistant Principal - Learning and Teaching
Parent Connect
Student Awards
Principal's Message
Congratulations Mrs McEvilly-Butler
We are very proud of and grateful for the exciting work that Mary McEvilly has been doing with our students. In recognition of this great work, Mary has been invited to represent the Lismore Diocese and present at the upcoming EduTech conference in Melbourne this week. EduTECH is Australia's largest education event, bringing together educators from across all education systems to discuss, debate, and evaluate the future of education. Mary will be presenting at the Google Teaching Theatre around the wonderful things that she and Mr Keane have been doing with STEM (Science Technology Engineering & Maths) and their collaboration with the University of Sydney. Mary shared her presentation with the students at our Monday Morning Assembly yesterday.
Well done Mary!!
"At St Finbarr's we embed technology to build a love of learning which inspires, engages and empowers students to become persistent, innovative, informed, and active citizens in a digital age."
Finnies Fun Run Launch
Students are very excited about our major fun/ fund-raiser event for 2023. The 'Finnies Fun Run' was launched at our special Monday morning assembly yesterday. The Fun Run will be held at school on Friday 3rd November and children can begin collecting donations later this week when the portal has been linked. After consultation with students and parents our goal is to raise money to build a Ninja Warrior Fitness track at school.
Farewell to staff
Pippa Reynolds announced this week that she will not be returning to St Finbarr's. Miss Reynolds is a much loved and highly regarded teacher who will be greatly missed as part of the St Finbarr's team. Pippa has been on leave for 2023 and is looking to broaden her horizons in 2024. Part of her heartfelt message included…"the camaraderie, support and experience at St Finbarr's has been incredible and I feel so lucky to have gotten the chance to have my first graduate job in your school."
On behalf of the whole school community we wish you all the best Pippa, your passion as an educator and dedication to your students will be sorely missed.
Canteen News
Jay informed me yesterday that due to personal reasons he will be finishing up immediately as manager of the Canteen. This has been a difficult decision for Jay to make and he thanks all those who have helped and supported him this year. We are currently seeking expressions of interest from anyone interested in taking on the Canteen manager role. The canteen will not be operating this week and we will keep everyone informed regarding future operations and plans.
Learning in Year 5 and 6
Students in Yr 5 and 6 began creating Podcasts this week. This is the beginning of a series of St Finbarr's Podcasts we are making. This encourages students to use their public speaking skills as well as allowing them to create scripts and refine their questioning techniques. We will share the links with parents in our next newsletter to enable the podcasts to be available to a wide audience. Any parents with experience in this area are welcome to get on board with us.
Here Bo and Felix share their thoughts and opinions on our first official Podcast.
Assembly
Due to the Stage 3 Gala Day this Friday, there will not be an assembly. Our award recipients will recieve their awards at our Monday morning assembly.
Term 3 School Fees
Term 3 school fees are now due for completion, please finalise any outstanding account by this Friday 25th August. If you need to discuss your school fee account, please contact Alison in the school office.
Mini Boss
By Iggy. M -Year 5
Miniboss is a business school for kids and I have been wanting to do it for about 2 years! Miniboss teaches you about building a business, including marketing, product development and sales and management. You have to come up with business ideas and pitch these ideas to investors. Our business is a course that teaches children how to not get scammed on Roblox. There are many common scams on Roblox like trading, swapping personal information and fake giveaways causing kids to lose their Robux, which is the currency of Roblox which parents pay for with real money. We want kids to feel confident, calm, and in control online. My business partner and I came second in the Australian finals and then went to win the world finals in Scotland!
Congratulations and Well Done Iggy!!!
Yours in Partnership,
Tim Bleakley - Principal
Sports News
Dio Athletics
Well done to our team of students who competed at the Diocesan Carnival held in Coffs Harbour last week. The Tweed team won the carnival overall.
Congratulations to the following students who have qualified for the Polding Athletics Carnival to be held in Sydney.
Milla P-11yrs 1500m (1st), 800m (2nd)
Kaia L- 12yrs 100m(1st)
Marley R- 11yrs Shot Put (2nd)
Roley C- 10yrs 200m (1st),
Hamish K- Senior 1500m (3rd)
Benji R- 11yrs MC Shot Put (2nd)

Lisa Clark
Sports Coordinator
Mission
Accendere
Last Thursday, our Year 4 students attended Accendere a Spiritual retreat day held at the Community Centre in Lennox Head. The theme of the day was 'Friendship'. Students rotated through a number of groups participating in a range of creative and active activites based on the scripture of the Good Samaritian.
Forgiveness, understanding what a friend is and trust exercises were all a part of the activites which were led by Mrs Lisa Clark, Miss Shelley Clark, Mr Blake Kernaghan, Mrs Clare Cathrew & Mrs Sonya Piccoli.
A liturgy was held at the end of the day along with reflection time where students discussed what they thought of the experience and what they enjoyed.
First Holy Communion
At St Finbarr's we have a number of students who have been preparing to receive their Fist Holy Communion. Over the past few weeks, the candidates have been attending Mass, where Father Jim has been welcoming them and including them throughout the Mass.
The candiates will receive their First Holy Communion on Saturday evening the 2nd of September, St Finbarr's Church at 6:00pm and we warmly invite all our St Finbarr's families and friend to join us to celebrate them recieving Holy Communion for the first time.
Inclusion & Wellbeing
Yours in Partnership,
Mrs Sonya Piccoli
AP Mission and Additional Needs Teacher
Gather - Canteen News
NEW CANTEEN TRADING HOURS.
Hello St. Finbarr's families,

We are going to continue with a two day working week being Thursday & Friday for the remainder of the term with the hope to extend the hours towards the New Year.

After receiving feedback from parents, staff and students we will have some new menu items available from next week:

1. Bacon & Egg roll
2. Potato wedges
3. Pop corn chicken cup
4. Fried rice
5. Plain rice cup
6. Ice blocks

Children will also be able to purchase select food each morning before school & at the first break.
Thank you for your support.
From Lachy & Jay
Student Awards